'Nobody should be at risk of violence in prison' – Justice Minister says new rules on management of trans offenders to be published
Simon Harris has said that prisoners who pose risk to others will be  incarcerated in "appropriate ways"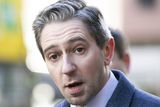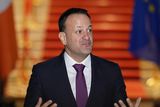 Ellen Coyne and Maeve McTaggart
Nobody should be at risk of violence in a prison, Simon Harris has said after concerns were raised about placing a violent transgender woman in a female prison.
The Justice Minister has sought to reassure the public that prisoners who pose a risk to others are incarcerated in "appropriate ways".
Mr Harris said that the Irish Prison Service will shortly publish a new policy for the management of transgender prisoners, which will be based on best international practice.
He was speaking after the Taoiseach said he believed that violent prisoners, who were born biologically male but identify as female, should not be put into female prisons.
Mr Varadkar was giving his views about Barbie Kardashian, who was imprisoned for five and a half years for threatening to torture, rape and murder her mother. Kardashian, who was jailed last week, legally changed her name and was granted a gender recognition certificate in 2020.
When asked if he believes violent biological males should be put into women's prisons, Mr Varadkar said: "No, I don't, quite frankly."
The Taoiseach said he only first become aware of the case from coverage in last weekend's newspapers. But he said he had been aware of a similar issue which recently arose in Scotland, where "it was necessary there, to change the law to make sure that women were protected".
Speaking this morning, Mr Harris stopped short of agreeing with the Taoiseach but said:
"The point that the Taoiseach was making – and certainly what I took from the Taoiseach's comment - is that there is no circumstance, regardless of gender, where anybody should be at risk of violence in a prison."
He said: "The most important thing for the Irish Prison Service to do in any scenario is ensure the safety and well being of all prisoners and all prison staff.
"And I want to absolutely assure people today that the individual risk assessments carried out on all prisoners, regardless of gender, is of paramount importance in relation to this."
While the minister said he could not comment on specific cases, he added: "In any circumstance, where there is a risk to the safety of the prison population or prison staff, there are mechanisms and operational procedures in place to ensure that such a prisoner is incarcerated in a prison in an appropriate way."
At the moment, when a person is sentenced to prison, the Irish Prison Service must accept that person in whichever prison is specified by the court. Each prisoner goes through a committal interview on arrival at prison.
As part of this interview, there is an opportunity for the prison governor to consider any risks that the prisoner themselves might face, as well as risks that they may pose to other prisoners.
"The Irish Prison Service is currently finalising a policy in relation to transgender prisoners. And this is a policy that will be informed by best international practice. Indeed, they are looking at a number of other jurisdictions in terms of how this issue has been approached. And I expect that to be concluded in the next few weeks," Mr Harris said.
The Scottish Prison Service (SPS) recently announced transgender offenders would be sent to jails matching the gender they were assigned at birth.
The case of double rapist Isla Bryson forced the SPS to reconsider previously inclusive policies when Bryson was sent to a women's prison.