No hate just love as stars unite against racism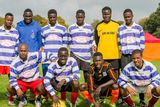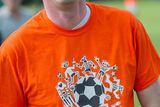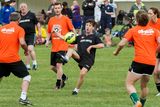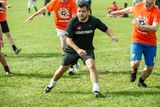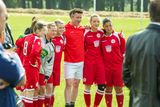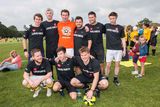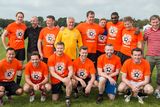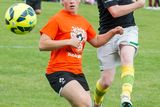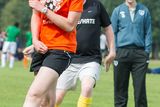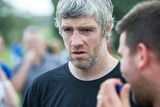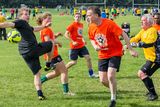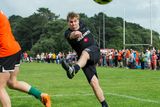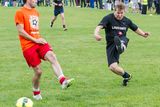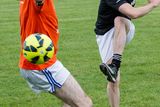 "Have him, have him, I'll have him."
When Noely from 'Love/Hate' shouts out a line like that, you can be pretty certain that someone is about to be putting their teeth in their pocket.
Luckily for Fran, this time they were on the same side and thankfully there was absolutely no bloodshed when the actors of 'Love/Hate' graciously lost out to the Sport Against Racism Ireland All-Stars in the annual Soccerfest challenge in the Phoenix Park.
It was the 18th year of the event - and this time was even bigger with around 700 people there to play football, including for the first time, a team of Muslim women in hijabs thanks to Fifa's lifting of the ban against competitors wearing the head scarf.
It is Europe's largest seven-a-side inter-cultural soccer tournament, and it celebrates cultural diversity, social inclusion and global development through the medium of sport, explained SARI director and former Ireland manager Brian Kerr, who also refereed the game.
Aidan Gillen, Peter Coonan, Stuart Carolan, Laurence Kinlan, Barry Keoghan and Johnny Ward from the hit TV show took on the SARI All-Stars Soccer team including Minister of State at the Department of Justice and Equality Aodhán Ó Ríordáin, former Dublin star Jason Sherlock, Irish women's rugby team members Marie Louise Reilly and Jenny Murphy, Ireland U-21 manager Noel King as well as former Nigerian internationals James Igwilo and Zuby Ufoh.
And in a colourful and heated tussle which saw the 'Love/Hate' boys put on the performance of a lifetime - with Peter Coonan, who plays Fran, pulling off an impressive 360 degree turn of footballing wizardry - it was the All-Stars who triumphed with a 2-1 win.
Actor Aidan Gillen, who is busy working on season five of Game of Thrones, admitted he hadn't played football for 15 years. "I did nearly score though," he said.