No fairytale finish but London fans enjoy historic day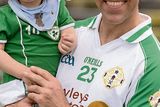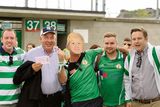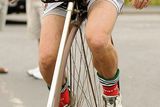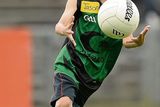 THEY came on trains, planes and penny farthings to watch their team make history.
For the thousands of London fans who descended on Castlebar to watch their side take on Mayo in the Connacht football final, it didn't matter that in the end the outcome was a thumping 5-11 to 0-10 defeat – just making it to a provincial final was enough.
Martin Krieg (59), who lives in Castlebar, found himself forced to honour an unusual bet after arguing with a friend that London would never make it to a Connacht final.
On losing the bet, he cycled from London to Holyhead on a pennyfarthing, getting his fair share of odd looks in the process. The trip to Castlebar took him nine days but he admitted to cheating a little in Ireland, taking his unusual bike on the train because the roads were "too bad".
"I'm going to be very careful what bets I make from now on," he said.
Another unexpected sight in Castlebar yesterday was that of "London Lord Mayor Boris Johnson" – the real Boris had politely declined an invitation to the event. But that didn't stop Down man Cyril McGreavey from turning up as his replacement.
He and wife Noreen had travelled to Mayo to support their son David, who was a player on the London side.
MASK
"I wore the Boris Johnson mask because he turned down the invitation and I thought he should be here nonetheless," said Cyril.
Commenting on the game, he added: "They did brilliantly to get this far. History has been made and our son was a part of it."
Close to 1,000 loyal supporters travelled from London for the game, with up to 6,000 fans supporting the team from around the country. But with 21,274 fans packing into the Castlebar stadium, home fans were well in the majority.
Chairman of the London supporters club Kevin Kelly said he was delighted with the turnout. He said his organisation had been inundated with messages of support from around the world, including a call from rugby coach Conor O'Shea and soccer star Robbie Keane.
"Robbie just rang to wish us well, and he was delighted that we were heading in the right direction and that we'd picked up the profile of football in London," explained Kevin.
"We weren't too optimistic – our big achievement was just getting here. Paul and the boys have worked very hard and it was their just reward. We're not here by chance, we're here because we deserve to be here," he added.
For Mayo TD John O'Mahony, the game was a trip down memory lane. He was part of the Mayo side which faced London when they last played at McHale Park back in 1975. And he was confident history would be repeated.
PROBLEMS
"We beat them by six or nine points that time so I wasn't expecting any problems for Mayo this time around," he said.
The last time Mayo won three provincial titles in a row they went on to take Sam Maguire home. The former manager was quietly confident this could once again be Mayo's year.
Patrick and Aoife Cosgrave, from Belmullet, were making their own bit of history bringing their nine-week-old son, Conan, to the match.
Perhaps the youngest fan in the venue, Conan was dressed in a Mayo jersey passed down by his 10-year-old brother Daithi, who had also attended all the games as a baby.
"It's a bit big on him but he'll grow into it but I had to hand him over to Aoife during the match because I didn't know if he would survive the hopping and jumping
Also at the game was ex-London player Ciaran Wynne. The born-and-bred Londoner now lives in Abbeyfeale in Limerick and jumped at the chance to bring his children, Ciara (2) and one-year-old Aidan, to the match.
"They were both born in London so they had to be here.
"We couldn't miss it, it means everything to be here. I was a member of the team until we moved to Limerick and to see them get this far was a dream."