Meet the stage four cancer survivor who had surgery 15 days after getting married
Marcia dressed as Olaf during chemo to cheer up patients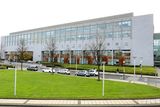 Oncology wards are not renowned for their cheer but when Marcia Miranda Faulkner arrived dressed as Olaf from the film Frozen to St Vincent's Hospital for a course of chemotherapy, wide smiles broke out.
Marcia had endured a tough run, from planning her wedding to the love of her life Jimmy, to being diagnosed with stage-four ovarian and breast cancer in the space of just a few months.
Marcia held her wedding in August 2021, despite her illness, and she credits her husband with giving her "the strength to get through it all". Fifteen days later, she had surgery to remove her ovaries and fallopian tubes.
The surgery was successful and in October she started a treatment plan of six sessions of chemotherapy for her breast tumour.
However, this setback was not about to define Brazilian-born Marcia, and she resolved to find a way to lift her own spirits – and those of others enduring cancer treatment in the Dublin hospital – as much as possible.
"I felt like I was burning inside because of the chemotherapy but here I am on the outside dressed as a snowman. People thought I was crazy at the start but when I started to bring cookies and lollipops for people, everyone wanted to be there the same days as me," she said.
Marcia first noticed a lump on her neck in January 2021. Six months later, she was given a diagnosis that would fill most people with dread. But not Marcia.
"I can remember sitting on my couch one day thinking, what's going on? I wasn't asking 'why me?' I knew I was strong enough to face it, but what could I do to get through this as easily as possible?" Marcia said.
"I decided I was going to do something in the oncology department to make people laugh.
"It was a way I could transform my pain and help me to get through this because I wasn't thinking about myself. I was focused on other people's pain."
Such was Marcia's positivity while undergoing treatment, she was first mistaken as a volunteer by nurses.
"The second time I went in dressed up in a T-shirt that read: 'Keep your hope alive'.
"My oncologist asked me what was behind what I was doing and I told him that it was because I passed the chemotherapy room before I ever started getting treatment and I could see the sadness on people's faces. I was thinking of what I could do when I am in there to change the energy.
"I brought in chocolates and cookies just to try to bring a smile to people's faces.
"My message to everyone was: 'Don't let this illness be bigger than the story you have already written.' Fight for yourself and keep fighting because your story is amazing. This is not going to beat you," Marcia said.
She credits her attitude with helping her to successfully navigate surgery, chemotherapy and then radiotherapy.
"I'm not supposed to be here and be all right. My oncologist said to me that my positivity was 50pc of the cure for me."
While Marcia is now waiting on the results of scans to be given the all-clear, it is looking good for her and she is looking forward to her life with Jimmy.
"He was and still is the best thing that's happened in my life. For me to go through this, to have him by my side and helping me with everything. That's why I was able to be so strong. His family were amazing too. I am so lucky to have had them there supporting me all the way through," Marcia said.
As is typical of Marcia, she couldn't help but think of Brazilian people in Ireland who may not have the support network she has but were also going through cancer. So, she now helps Brazilian people who are sick, with anything they may need.
"When I discovered I had cancer, I thought to myself, how many Brazilians, living in Ireland, were going through the same situation, living a dream of coming to learn another language, far from home, family and friends, a different health system and a serious illness to deal with?
"The best way to face cancer was to offer help for those who needed it and take the focus away from me. Anything, like going as an interpreter to the appointments, to try to make it easy for those who were just totally lost like me.
"We eventually created a WhatsApp group to share our experiences giving support to each other. Slowly, other women joined the group, looking for support or to share their stories. The most important thing is giving love," Marcia said.
The Irish Cancer Society's Daffodil Day takes place this Friday, March 24. Go to www.cancer.ie to get involved or donate