Man who murdered wife and children disguised himself as woman on night they were killed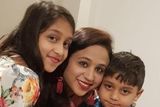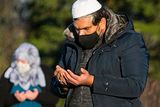 A man who murdered his wife and two children in their Dublin home wore a dress and disguised himself as a woman on the night they were killed.
His daughter, Asfira Syed (11), also made a video message that night saying: "Dad loves us so much" and denied he had assaulted her mother, an inquest has heard.
The bodies of Asfira, her brother Faizan (6) and their mother Seema Banu (37) were found at their home in Llewellyn Court, Rathfarnham, in October 2020.
Sameer Syed had been charged with his family's murder but died a week before he was due to stand trial last June.
Dublin Coroner's Court today heard of the significant garda investigation into the triple murder.
The inquest previously heard of how Ms Banu was subjected to years of abuse by her husband and how he was barred from the house because of an assault the previous May.
Evidence was given that armed gardaí forced entry to the home on October 28, 2020, and noticed significant water damage to the kitchen ceiling from an upstairs tap left running.
Detective Garda Brian O'Neilll said he went upstairs and saw Asfira and Faizan lying face down beside each other on a bed.
Both had a scarf around their neck which were tied with a knot. Gda O'Neill said he knew both children were deceased.
Seema Banu was located in a different bedroom lying face up on a bed with scarf tied around her neck which was knotted at the front.
The detective said he called out but there was no response, and he then touched her lower left leg which was "ice cold".
At that stage he said he was certain Ms Banu was deceased.
Garda management were alerted and at 1.20pm the scene was declared a crime scene.
Deputy State Pathologist Dr Heidi Okkers said the cause of death for all three was asphyxia due to ligature strangulation.
She also said the ligature may have been applied to Ms Banu after her death and that self-strangulation in the case was unlikely.
Detective Inspector Vivian Rock, who oversaw the murder inquiry, said a large amount of forensic and digital evidence was gathered by the investigation team.
He told the jury that CCTV footage showed a man boarding a Dublin bus in Rathmines shortly after 8pm on October 22, six days before the bodies were found.
The person was wearing a dress, jacket, hat and dark glasses while carrying a bag, and took the number 14 bus in the direction of Rathfarnham.
Det Insp Rock said it was established that this was Sameer Syed dressed as a woman, and that the clothing was not cultural dress or otherwise.
The garments and items had been sourced elsewhere and were recovered during searches in different properties, including at Llewellyn Court.
In garda interviews, Syed "capitulated" and conceded that it was him in disguise and that he was present at the family home on the night of the deaths.
The inquest heard that prior to arriving at the home he changed back into men's clothing.
Gardaí also recovered a video recorded by Ms Banu and Asfira shortly after 10pm that night.
During the video she claimed that injuries suffered in an assault by her husband that May were self-inflicted by strangling herself.
Ms Banu also produced a prepared document, described as a "final statement", in which she denied her husband had assaulted her.
Asfira also tells the camera that her dad did not hit them and adds: "Dad loves us a lot. He loves us so much".
Det Insp Rock said investigations established this statement was taken at least a week earlier and had been written by Asfira.
Digital examinations revealed it had been sent from Ms Banu's device to Syed's phone on October 16.
It was also transmitted between the devices at 10.10pm on the night they are believed to have been killed.
The statement shown in the video was found "neatly placed" on the bedside locker beside Ms Banu's body.
After being charged with the earlier assault, Syed was barred from visiting the family home and was only allowed supervised access to his children.
However, the garda investigation found that he visited the home on 29 days, between August 20 until the day of the deaths, specifically on weekends. Despite this, neighbours did not report seeing him.
Syed was later arrested over the murders and in interview admitted killing his wife but named "another party" for the murder of their children.
However, Det Insp Rock said gardaí were able to prove this was not the case and the DPP directed he should be charged with all three murders.
Gardaí had found his fingerprint on the plastic bag recovered under Asfira's head.
Syed was due to stand trial for murder last June but he was found dead while in custody.
The Senior Investigating Officer said it was a protracted investigation, following hundreds of lines of inquiry as well as liaising with foreign police forces.
The jury returned a verdict of unlawful killing for all three victims and expressed their sympathies to the family.
The Coroner, Dr Clare Keane, said they had no chance to reach their potential and that their deaths was "unimaginable".
She also acknowledged the work of the gardaí, Tusla, and the Sonas refuge, and said it had been a very, very difficult case.