Man charged with murder of retired farmer (83) found shot dead in burning house in Mayo
Kevin McHale of Annagh, Castlebar, Co Mayo, appeared in court charged with the murder of John BroganGardaí gather CCTV footage to help with their investigationMr Brogan's body was found in his home on the outskirts of Castlebar on Sunday evening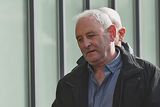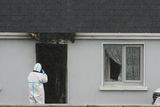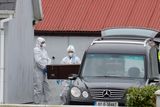 Nicola Anderson, Conor Feehan and Ken Foy
A man has appeared at Castlebar District Court charged with the murder of a retired farmer who was found shot dead in his burning house on Sunday.
Kevin McHale of Annagh, Castlebar, Co Mayo, who is aged in his 60s, appeared before Judge Fiona Lydon shortly before 12.30pm today. He wore a blue shirt, black trousers and a black jacket.
Detective Sergeant Michael Doherty said he had arrested the accused at 11.12am at Castlebar garda station and had charged him with the murder of John Brogan (83) at 11.43am.
The accused made no reply to the charge after being cautioned.
Mr McHale has been remanded in custody to appear at Harristown District Court in Roscommon on Friday.
The accused's solicitor, Gary Mulchrone, made no application for bail, but he made an application for legal aid, saying a statement of means had been supplied to the court which showed that Mr McHale was in receipt of a social welfare allowance. Judge Fiona Lydon granted the application.
Mr Mulchrone also requested any medical attention necessary for his client, including psychiatric assessment, and this was also agreed by Judge Lydon.
Mr Brogan was found shot dead in his Castlebar home on Sunday evening. The retired bachelor farmer had lived all his life with his brother Henry, until his brother's death several years ago. He has one surviving sister.
The dead man was found inside the house in the Pheasanthill area of Castlebar at around 6.30pm on Sunday, when emergency services were called after passers-by were alerted to a fire in the hallway.
Gardaí are hoping CCTV footage from a nearby village will help them as they investigate Mr Brogan's death.
After emergency services put out the blaze, Mr Brogan was found inside the property having suffered apparent gunshot wounds.
Pathologist Margot Bolster carried out a preliminary examination on the body, and Mr Brogan's remains were then taken to Mayo University Hospital at Castlebar for a post-mortem.
Investigating gardaí want to establish if Mr Brogan's death was due to the fire or the apparent gunshot wounds.
It has since emerged that Mr Brogan had been acquitted last week of a number of historical sexual abuse allegations against him and had been facing more charges in relation to allegations of historical abuse of a different person.
On March 1, Mr Brogan was acquitted of 16 sex assault charges and found not guilty of four others by direction of the judge at a sitting of Mayo Circuit Court.
He was due to receive a trial date this summer for 45 sexual assault and indecent assault charges against a different person. The charges related to a period of time between 1982 and 1991.
Mr Brogan had lived alone in a bungalow on the Castlebar to Westport road since his brother died in 2017.
There are a number of small outbuildings behind the house, and a small field in front of it.
The house remained sealed off yesterday as members of the garda technical bureau carried out a forensic examination of the scene.
The hallway and front door of the property were visibly scorched, but the flames had not spread to the rooms or the roof.
Neighbours reacted with shock at the killing, and said it was a tragedy for everyone in the community.
Mr Brogan was described as a hard worker who would help locally with saving turf and splitting logs for firewood.
"He kept a number of donkeys and ducks, and he would put them out in the field in the morning," one local said.
"People would be watching for them or for smoke from his chimney to make sure he was up and about. He had a sister and other relatives who would also check-in on him regularly.
"We were all shocked at what happened."
Another person said: "When we saw the gardaí and the evidence of the fire we thought that it had been some sort of tragic accident. But then we heard about the man being arrested. It was awful."
Many people in the area politely declined to comment on the matter.
Mayo Fine Gael TD Alan Dillon said the incident was "a terrible shock for the community".
"It is very difficult to comprehend when something like this happens in the local community. On a quiet Sunday evening people were sitting down and then this awful news spread in relation to the tragedy," he said.
"For a county like Mayo, while we have had isolated incidents…, it does bring that sense of real tragedy and real grief, and a sadness, to the local community."