Mairia Cahill has joined Labour Party - and will contest Seanad by-election in Donegal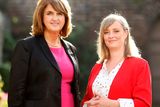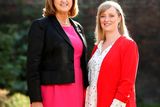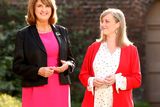 Joan Burton has nominated Mairia Cahill to contest the Seanad by-election following the resignation of Donegal Labour senator Jimmy Harte.
The Labour leader said earlier today she had picked the Belfast woman, who was raped as a child by a top IRA man, because she was "incredibly taken with Mairia's bravery, honesty and dignity since first meeting her last year, when she told me of the abuse she had suffered as a teenager".
Ms Cahill, who has campaigned against the alleged cover-up of the attack, will go before the Labour parliamentary party and Central Council on Wednesday for ratification, and the vote for the seat will take place on November 13.
As this is a Labour Party vacancy, Fine Gael is not expected to put forward a candidate, which ensures the election of the Labour nominee.
"At the time, I pledged that I and the Labour Party would support her in any way that we could," said Ms Burton.
"Mairia hugely impressed members when she spoke at our annual conference. And when the hugely admired Jimmy Harte retired from the Seanad, I realised Mairia would be an excellent candidate to replace him.
"Mairia is a powerful advocate for abuse victims and refuses to be silenced even when vicious campaigns are mounted against her.
"She is a passionate campaigner on social justice issues and women's rights. She has a background in youth employment, activism, and community enterprise.
"We are nominating Mairia for the Seanad because we believe she would be an excellent senator with an immense contribution to make."
Read: Mairia Cahill - "Why I have decided to stand, in tomorrow's Sunday Independent.