Liam waxes lyrical on trip back to his roots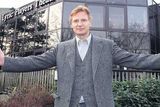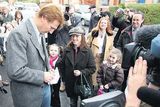 Hollywood star Liam Neeson paid homage at the weekend to the theatre where he learned to act.
The actor was in Belfast on a flying visit to help raise money for the Lyric Theatre, which closed this weekend for a £17m (€22m) overhaul.
His early acting career began in the Lyric in 1976, and he said he owed it a great debt.
"It was my bread and butter, my spiritual food. To get the chance when everything in Northern Ireland seemed destined for doom," he said.
"I had this little burning light inside me that I wanted to be an actor, and the Lyric gave me the chance in the midst of all the carnage, which I have never forgotten and which I appreciate."
The Co Antrim-born actor (55) condemned what he said was the under-funding of arts in Northern Ireland, which has seen the North trailing behind many other areas in Britain and Ireland.
"It is appalling that the Arts Council has not been able to put more money into the arts here.
"It is a crime actually," he added.
Mr Neeson has promised to be back for the re-opening of the theatre, possibly in 2010, and said he would be keen to take part in the first production.
He added the Lyric had always been a magnet of cross-community activity.
"The theatre goes out and does local projects in both sections of the community. It has always been that way.
"There was always a harmony here in this place, you left your differences outside the front door. That is the power of theatre."
Neeson quashed rumours linking him to a film about the life of Ian Paisley.
The star of 'Schindler's List' and 'Michael Collins' said it was "too early" to make a film about the life of Northern Ireland's First Minister and that history needed time to develop.
"I think it is a bit early because the peace process is still happening, the government is still finding its sea legs, and it will. But as regards telling the tale of the Troubles and the principal characters involved, it is still a little early," he said.