Leader of AGSI: I will go to jail in support of pay claims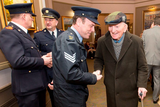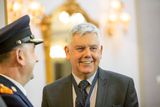 Garda supervisors are threatening to break the law and take strike action in support of their pay claims.
And their full-time leader says he is prepared to spend his holidays in jail if he is prosecuted for promoting the withdrawal of labour by his members.
The mid-ranking gardaí say they will hold a special delegate conference in June to debate a range of protest options, including strikes, if there is no progress on their claims for a restoration of pay rates to pre-recession levels in the short term.
The annual conference of the Association of Garda Sergeants and Inspectors (AGSI) in Westport, Co Mayo, yesterday gave the go-ahead to its national executive to launch an immediate protest campaign.
Strategy for the campaign will be planned by the executive immediately after the conference ends this afternoon.
This is the first time a strike has been put on the agenda by gardaí and it underlines the growing anger and frustration over the failure to meet their claims.
The supervisors said they were not looking for a pay rise but were seeking the restoration of levels that existed in 2008.
They said they had been promised these rates would be restored when the recession was over and on that basis they had agreed to cuts that reduced their wage packets by up to 30pc.
But those promises had not been fulfilled, delegates said.
AGSI general secretary John Jacob was given a standing ovation when he said he had booked a family holiday for June, but accepted it was possible he could be prosecuted for promoting a withdrawal of labour and could end up spending his holidays in jail.
Mr Jacob was promised the full support of cheering delegates as he outlined his potential fate under the Garda Síochána Act.
He said he did not want any conflict but he shared the passion of his members for a restoration of pay levels and he was prepared to break the law, although he did not want to go to prison. Mr Jacob pointed out that the AGSI was traditionally a conservative organisation but said it had become very militant.
He said that if he had proposed a march on the Dáil three or four years ago, he would have been "laughed out of court".
He added: "Now people are insisting on it and in our survey 90pc of members supported industrial relations activity like work to rule.
"The industrial action starts today. The battle lines are drawn," Mr Jacob said.
It is likely to include a march on the Dáil, possibly in uniform, on the first day of the new government; pickets outside the constituency offices of TDs and government ministers; and culminate in a decision on a strike.
Also under consideration is a work to rule, which would include refusing to carry out after-hours administrative duties, assigning duties to members of the Garda Reserve, and possibly not using their personal mobile phones and cars for official duties.
He said those actions would grind the organisation to a halt as the sergeants and inspectors were the pivotal point around which the force revolved.
The AGSI is to seek the support of rank-and-file members as well as retired colleagues in their campaign.