Joe Biden's April visit to Ireland: massive security detail will involve welding the manholes shut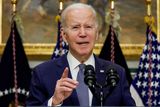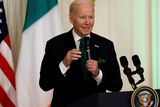 Specialist gardaí are involved in detailed discussions with the US Secret Service ahead of the visit of US President Joe Biden to Ireland next month.
No date has been formally announced for the presidential visit, but it is anticipated that Mr Biden will arrive in Ireland on April 17. However this date is subject to change.
Discussions about the visit between specialist gardaí and US police agencies have been ongoing for "months", said a source.
They said the monitoring of dissident criminals has been at a "heightened level", given the poignancy of the purpose of Mr Biden's visit, to mark the 25th anniversary of the Good Friday Agreement.
The Garda Special Detective Unit (SDU) will be responsible for the US president's protection while on Irish soil. Specialist gardaí are also liaising with US intelligence agencies about any potential threats criminal elements could pose.
​Plain-clothes members of the Emergency Response Unit (ERU) will be responsible for the security detail of the US president. It is understood that at least two dozen members of the armed ERU will be assigned to protect him.
Hundreds of other gardaí, including uniformed officers, will also be involved in the policing plan during the visit.
Garda sniper teams will be deployed to rooftops on all occasions when Mr Biden enters a public place. Public drain covers will also be temporarily welded shut, to ensure terrorists cannot place bombs underground.
Garda divers will also be deployed to check all bodies of water. The US Secret Service will also accompany the US president but An Garda Síochána is responsible for his safety while in Ireland.
A source explained: "A huge amount goes on behind the scenes ahead of a visit of a VIP. And it doesn't get much bigger than a US president. A lot of what is done is discreet — but there will also be a visible uniformed garda presence too."
It is understood that gardaí are also working "very closely with the PSNI", as Mr Biden will visit Northern Ireland during the trip.
Gardaí, PSNI and the FBI have been drawing up lists of any person who might try and target Mr Biden during his trip. Dissident terrorists, as well as others who have displayed "radical anti-US sentiment", are currently being profiled and are on a watchlist.
It emerged on Thursday that the PSNI has asked that 330 officers from the rest of the UK be assigned to assist with their massive security operation.
Last week, the White House confirmed Mr Biden would visit Ireland and Northern Ireland as part of the celebrations around the 25th anniversary of the Good Friday Agreement next month.
Mr Biden's visit is set to last five days, with a significant part of that time being spent in his ancestral home of Mayo. He also has strong ties to the Cooley Peninsula in Co Louth.
Mr Biden spoke about his support for the Good Friday Agreement during his meeting with the Taoiseach in the White House on St Patrick's Day.