'It was nice to see a bit of emotion' – says Rory Best on Johnny Sexton leading Ireland to Grand Slam victory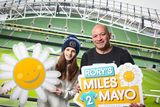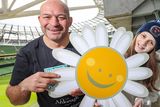 Former Ireland rugby captain Rory Best has paid tribute to Johnny Sexton following the team's historic Grand Slam win on Saturday.
Best was the last player to captain Ireland to a Grand Slam victory in 2018.
The 40-year-old offered a "massive congratulations" to the team on their 29-16 win over rivals England.
He praised Johnny Sexton, who became emotional after the euphoric win, and compared it to "living in a dream".
Saturday's clash was Sexton's final ever game in the Six Nations Championship.
"It was nice to see a bit of emotion come out because ultimately before the game all he'll want to have done is win a Grand Slam here," Best told the Irish Independent.
"As a captain you just want your team to perform, you want to be able to lift that trophy on behalf of the team, everyone involved, the management, your family – the people that sacrifice so much.
"It was good to see a bit of the emotion because he'll still not see it as being anywhere near his last game.
"Having played your last Six Nations game at the Aviva.. it's another moment in time that will not happen again but until you get closer to your last ever game, the real emotion doesn't properly hit.
"So, it's brilliant that he was able to lift the trophy on this pitch and lead that team."
Best said he wanted to see Ireland succeed and solidify their world number one ranking.
"They looked really nervous at the start, and he (Sexton) was able to, as he's done time and time again in a green jersey, steer them through that," he said.
"He's always done that as a player and now to see him the last four years doing that as a captain - it's brilliant to see because Johnny is not just a fantastic player, he's a good friend of mine and you want your friends to do well.
"Ultimately when you're the last player to have lifted a trophy here, there's an element of you want to guard that as much as you can but ultimately what you want is the team that you support and you were lucky enough to play for, you want them to be better and better and better.
"I wanted Ireland to win the Grand Slam because you just want Ireland to succeed and what a way to do it then the Grand Slam and going into a World Cup year."
The former Ulster hooker commended Ireland's performance while under pressure.
"I think they have been probably the best team in the world for certainly 12 months now," he said.
"I think the really pleasing thing is when the pressures come on like it does in a Grand Slam decider that they were able to stand up.
"Doing a bit of work at the game here with Brian O'Driscoll and one thing he said is that because we haven't won many Grand Slams historically, we can't really be picky as to where you win them.
"But to win one at the Aviva Stadium in front of your home fans, I've heard this place very loud at times, but nothing compared to Saturday."
The rugby star will embark on Rory's Miles 2 Mayo on May 16, which will see him walk over 300km from Dublin's Aviva Stadium to Cong, Co Mayo, for Cancer Fund for Children.
The funds raised will go towards building Daisy Lodge in Cong, which is a therapeutic short break centre for children diagnosed with cancer and their families.
Best, who also undertook the challenge in 2021 for a similar centre in Newcastle, Co Down, said this is about "trying to make a difference to people's lives".
"I think being a father of three kids and we're incredibly fortunate that we haven't had to avail of somewhere like Daisy Lodge," he said.
"But when you retire you want to make sure you use your profile to make a difference.
"It felt right to leave the Aviva first of all then go to Crumlin and work our way down to Limerick then up to Galway and onto Cong to make sure that this place is built."