'I'm alive with a young son so I'll keep fighting' - Mother in plea for €100k cancer drug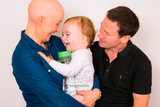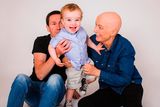 A mother fighting cancer has launched an online appeal to raise €100,000 for a revolutionary new "wonder drug" she hopes will save her life.
Claire Graham (38), who lives in Crumlin, was left devastated after being diagnosed last year with triple negative breast cancer, a particularly aggressive form of the disease.
In a double blow for her and husband Declan, just three months later their baby son Harley (2) was discovered to have an extremely rare cancer of the eye called retinoblastoma.
Claire said that it is thanks to Harley that she has found the strength to keep fighting and campaigning for an expensive drug that could save her life.
"Getting down about it isn't going to get me anywhere," she said.
"I have a two-year-old and he keeps me busy. I never think, 'why me?' because there's thousands of women who undergo treatment for cancer every year.
"I actually feel really blessed because I have had so much support from people who don't even know me.
"You just learn to get on with it. Today, I'm alive so I'm going to live it. You're just wasting days of your life doing otherwise," she added.
SURGERY
Claire was in the middle of her own chemotherapy last August, after having a lumpectomy, when she spotted that her little son had a light-coloured mass behind his pupil.
Just one week after taking him into Crumlin Children's Hospital on the advice of her GP, he was booked in for emergency surgery to remove his eye.
"The doctor saw me, that I had lost my hair and said, 'You're probably going through treatment, are you?'," she said.
"Then after the MRI, she came out and said that she was pretty sure that it was retinoblastoma.
"With me having cancer at the same time, you're just thinking, 'how can this be?'."
Harley's surgery went well but he then had to undergo a series of tests to check whether the cancer was contained or if it had spread.
They had a week-long wait before hearing the good news that he now appeared to be cancer-free.
But while they were over the moon that his cancer had been stopped in its tracks, Claire was not so fortunate.
At the end of 2016, she was due to start radiotherapy when she received some more bad news.
She had been getting severe headaches and was referred for an MRI scan, which confirmed her worst fears.
She was told that the cancer had spread to her brain and she had a malignant tumor.
A short time later, she discovered that the cancer had also returned in her breast and she had lesions on her back.
Now she has started an online JustGiving campaign to raise €100,000 to pay for two years' treatment of a revolutionary drug called pembrolizumab.
It is currently being trialled in Belfast and has recorded positive results with cancer patients in the UK - but is not yet licensed for use in the Republic.
Her case was take up by a UK charity called Team Verrico, who sent her to see a leading London-based medic, Professor Justin Stebbing.
He told her that her best chance of beating the cancer was going on a course of pembrolizumab.
It was only upon returning home to Dublin that she learnt that it was not yet available here and she does not qualify as a candidate for a drugs trial.
According to the HSE, the drug has an estimated five-year cost to the State of €64m, given the high price being sought by the pharmaceutical companies.
"To be told that there was this great drug that will help save your life but that it's not available here was terrible," she said.
BATTLE
"We would move to Belfast if we could or sell our house to fund this but like so many other people, it's in negative equity so there's no point.
"So we came up with the idea of crowd-funding and the amount of support we've got is unbelievable."
Claire, who is currently a patient of leading oncologist Professor John Kennedy, said that Harley is doing "brilliant" now and has been fitted with a prosthetic eye that he is gradually getting used to.
She wants to stay positive for his sake as she embarks on another gruelling round of chemotherapy, in this case GemCarbo, in the hope that her latest treatment stalls the cancer long enough to fund-raise for the drug.
Claire set up the page with the help of her friend Michele Trapiche, who she met via an online support group for breast cancer patients.
Last night, her page had already raised more than €15,000 but she still has some way to go to reach her target.
She said that she wants to live to see Harley grow up because if she is not successful in her cancer battle he will not be left with any memories of her.
To donate, visit here