Hunting of wild birds to be reviewed amid concerns over declining populations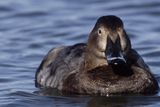 Shooting of wild birds may be curtailed under a review of the open season for hunters.
Fifteen of the 21 birds allowed to be shot at certain times of the year are listed by BirdWatch Ireland and the National Parks and Wildlife Service (NPWS) as being of conservation concern because of their falling populations.
Heritage Minister Malcolm Noonan said the rules needed to be reviewed to ensure that continued hunting was sustainable.
He has opened a public consultation, to run until May 3, asking for views on whether the open season for specific birds should be shortened or dropped completely.
The NPWS is simultaneously carrying out an analysis of the state of individual species and the impact hunting has on them.
Six species of are particular concern. The red grouse, wigeon, pintail, scaup, tufted duck and pochard are all categorised as being of high priority for protection.
The others are teal, gadwall, shoveler, goldeneye, golden plover, snipe, jack snipe, woodcock, mallard and greylag goose.
Mr Noonan said the challenge of reversing declines in threatened bird species and their habitats was increasing.
"Despite more than 30 years of effort to protect and conserve biodiversity under the EU Birds and Habitats Directives, the latest assessments under these directives show declining trends in the conservation status of some of our most threatened species," he said.
"We must make every effort to protect our birds and, in line with our EU counterparts, it is appropriate that we consider the role of hunting activities in this context."
He said the aim was to both protect vulnerable bird species and "to support sustainable hunting practices".
"We must also develop better processes for data collection and periodic review of the Open Seasons Order. This must be collaborative, and based on scientific evidence," he said.
The public consultation is taking place by way of a detailed questionnaire aimed at gathering information from hunters, landowners, those active in conservation and the general public.
Under EU law the default position is that all wild birds are protected but shooting of certain species is allowed at certain times of the year.
Open seasons range in length from five months covering September to January for some species to six weeks for others.
Some species can be shot anywhere in the country but others may only be hunted in a few counties.
Access to the consultation portal is through the gov.ie website.