Hero's welcome home to rainy Carlow for Gold Cup winner Galopin Des Champs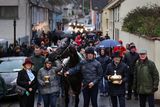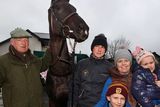 Before Galopin Des Champs romped to victory in the Cheltenham Gold Cup on St Patrick's Day, owner Audrey Turley sought the help of another holy figure.
The glorious weather on the day may not have been a coincidence as she brought along the child of Prague statue - famous for determining meteorological fate - in the hope that the sun would shine down.
"I was watching the weather forecast for the week and there was to be torrential rain on Thursday and Friday," she said.
"They mentioned thunderstorms, so I said 'ah no, we can't have that'. A niece of mine was calling into our house on the way over so I said bring the child of Prague. Just before the race there was a rainbow and it looks like we got the crock of gold at the end of the rainbow that day."
It appears the child of Prague statue did not make the journey to The Lord Bagenal Inn in Leighlinbridge in Carlow, with the rain bucketing down for Galopin Des Champs' homecoming on Tuesday evening.
"I didn't bring it today as I was afraid there would be a drought and we'd be in trouble for that," Ms Turley laughed.
Yet the miserable weather did little to dampen the spirits following a significant victory for the Willie Mullins-trained seven-year-old.
Dozens of people joined in on the homecoming parade through Leighlinbridge, with locals coming out of shops and pubs to congratulate Willie Mullins personally.
"Good man Willie," one man shouted while holding a pint of Guinness outside the Garrison pub in the pouring rain.
"Good man yourself," he replied.
Drivers heading in the opposite direction also stopped to offer kind words.
"If he kicks my car sure won't it be a lucky kick," one man remarked.
Despite being the well-backed 7/5 favourite under Cork jockey Paul Townend, there was a point to prove following a final-fence fall in the Turners Novices' Chase at the meeting last year.
For Audrey Turley and her entrepreneur husband Greg, who live in Rathgar in Dublin, this victory has been a longtime in the making.
The couple started training with Willie Mullins in 2011 and gradually have been building up to this moment.
'I was quietly confident but I didn't dare to dream," Ms Turley said.
"I am superstitious and didn't want to jinx it. He was in fantastic shape and ready to go. Paul was just outstanding, he was just fantastic. He is a superstar. He just ran the race so well."
For the three-time Gold Cup winning jockey, this triumph means he just needs one more win to equal Pat Taaffe as the most successful rider in the race's history.
But the Cork native didn't have much time to reflect as it was back to business as usual. He arrived late to the homecoming after racing in Clonmel. Bachasson landed the Suir Blueway Chase by a wide margin in his hands.
"I'm still running on adrenaline to be honest," he said.
"But the days in Clonmel and Thurles are all important days too. I'm lucky to get to ride the horses that I do."