Gusts of up to 130km/h expected as Met Éireann issues Status Orange weather warning for 13 counties
Status Orange and Status Yellow warnings issuedStorm Callum to bring strong winds, tail-end of Hurricane Leslie will bring rainfallGusts of up to 130 km/h expectedFlood warning for coastal counties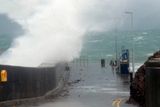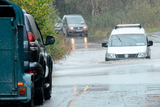 Amy Molloy and Luke Byrne
Brace yourself as parts of the country look set to be hit by gusts of up to 130km/hr, Met Éireann has warned as they issued a Status Orange wind warning for 13 counties this evening.
A weather system, named Storm Callum, has been brewing to the north west, near Newfoundland, and will hit Ireland tomorrow night.
The wind warning was re-issued by Met Éireann tonight for Donegal, Galway, Mayo, Sligo, Clare, Kerry, Dublin, Louth, Wexford, Wicklow, Meath, Cork and Waterford.
"Southeast winds veering southwest will gust generally between 100 and 130km/h, higher in some coastal areas and on high ground.
"Along with a spell of heavy rain and high tides there is a risk of coastal flooding and damage," they advised.
People have been urged to prepare for severe weather heading into the weekend as the effects of Hurricane Leslie, which is further to the south, will also be felt.
There are also risks of coastal flooding, and the warning is in place from 10pm Thursday until 12pm Friday.
A Status Yellow warning will also come into effect for Carlow, Kildare, Kilkenny, Laois, Longford, Offaly, Westmeath, Cavan, Monaghan, Leitrim, Roscommon, Limerick and Tipperary at midnight on Friday and will remain in place until 9am that morning.
Parts of the country are already experiencing flooding today, with several routes in Mayo affected by yesterday's heavy rain.
Met Éireann forecaster Deirdre Lowe said strong winds would be followed by a period of heavy rain sweeping up from the south east, with the possibility of flooding.
The weather system will initially have the greatest impact on the west of the country and then move north, however all of the country will be hit.
After the worst of the wind has swept the country, the tail-end of Hurricane Leslie will bring rainfall, raising the prospect of coastal and river flooding.
"We are urging people to take the necessary precautions," Ms Lowe said.
"We are going to get very high winds followed by a lot of rain and there could be some coastal surge."
However, she stressed that the weather system was still developing and it will be today before there is more certainty of what will happen.
Official warnings will be issued in line with those forecasts, Ms Lowe added.
Galway City Council's weather assessment team met on Monday to assess the approaching storm.
A spokesperson said the western county was experiencing a period of "very high astronomical spring tides".
The weather systems will come after a period of unseasonably warm weather.
The mercury reached upwards of 20C yesterday, with temperatures expected to remain around the same level today.
At the end of the weekend, the forecast for Sunday is for a cooler and fresher day with scattered showers and sunny spells.