Grangegorman squatters resist eviction from derelict site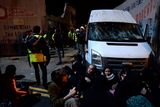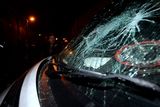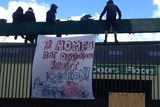 The squatters in Grangegorman have claimed "victory" after they forced a stalemate with the receiver trying to remove them from the derelict site.
The residents, who have occupied the disused space for a number of months, said in a statement that the "complex remains in our control" after they resisted attempts by agents of Luke Charleton - the receiver to assets of developer Paschal Conroy – to evict them Monday morning.
"We would like to say a massive thank you to all the people, local businesses and voluntary organisations, who have showed us support, love and solidarity in the struggle to protect our home," they said.
"We have never felt so strong. The complex remains in our control and we are going to fight for it with all we've got."Read More: Up to 60 people remain in the complex on Grangegorman Road Lower in North Dublin, which includes three residential houses as well as a number of warehouses and a large yard.The squatters said they had reinforced the external gates to prevent security workers from re-entering.
There were tense scenes yesterday as protesters prevented the workers and security men – who had accessed the site earlier in the day – from leaving.
A number of people were treated by paramedics during a stand-off at the squatted property when waiting protesters were injured when they attempted to stop a worker's van from leaving the site.
The windshield of the vehicle was smashed before protesters sat down in front of the van.
The group of squatters have been warned they will face legal action if they do not vacate the buildings they are occupying.