Golfers rescued by Coast Guard after buggy plummets off cliff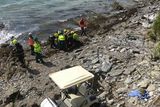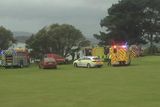 Two golfers had a lucky escape when they drove their buggy off the side of a cliff.
The incident took place at the Gold Coast Golf Resort in Dungaran, Waterford on Monday night.
The Mirror reports that the pair only suffered minor injuries when their buggy ended up on the shoreline.
A helicopter from Rescue 117 Coast Guard was called to the scene and the men were brought to University Hospital, Waterford.
The Rescue 117 crew wrote on Facebook: "This afternoon we were tasked by MRCC [Marine Rescue Coordination Centre] Dublin to Dungarvan golf course. A golf buggy with two males had gone over the shallow cliffs.
"The two were individually placed into our stretcher, winched and handed over to NAS [National Ambulance Service]. Thanks also to Waterford Fire Brigade, Garda and Bunmahon CG unit."