Garda Whistleblower John Wilson: Alan Shatter's position had 'become untenable' and his decision to resign was 'the correct one'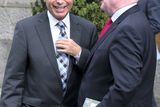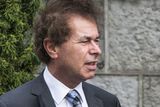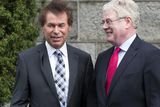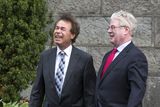 Garda whistleblower John Wilson said Mr Shatter's position had "become untenable" and his decision to resign was "the correct one".
Speaking on RTE's Prime Time programme tonight, he told host Miriam O'Callaghan that he took "no pleasure in the demise of any human being".
Mr Shatter's position as justice minister had "become untenable" and he had been "defending the indefensible for the last ten months or so".
The former garda said Shatter had become a "liability to the government" and his decision to resign today was the "correct one".
Earlier this evening, Taoiseach Enda Kenny confirmed Mr Shatter's successor will be announced in the Dail tomorrow morning.
Until then, the Department of Taoiseach would assume responsibility for the Departments of Justice and Defence.
Mr Kenny Fine Gael Parliamentary party this evening that the nomination will be made in the Dail chamber tomorrow morning at 10.45am.
Transport Minister Leo Varadkar and Minister for Children Frances FItzgerald are heavily tipped to take on the new role.
Taoiseach Enda Kenny announced the resignation of Justice Minister Alan Shatter in the Dail chamber shortly before 4.45pm.
Mr Shatter offered his resignation in a letter sent to the Taoiseach at midday.
The resignation came as a major shock especially considering that he was in a jovial mood at the  annual 1916 Commemoration Ceremony in Arbour Hill today.
The former minister referred to the Guerin report in his letter and said he did not wish the controversy to surround the Fine Gael/Labour coalition going into the elections.
He also stressed that the author of the report, Sean Guerin, did not interview him for his report.
Instead the report is an overview of the documentation involved in the 'Whistleblower' controversy. Mr Shatter said he agreed with Mr Guerin's conclusion that these matters be the subject of a public inquiry.
"I am anxious that any controversy that may arise on publication of the Report does not distract from the important work of Government or create any difficulties for the Fine Gael or Labour parties in the period leading into the European and Local Government elections," Mr Shatter said in his letter to the Taoiseach.
"It is my judgment that the only way in which such controversy can be avoided is by my offering you my resignation from Cabinet.
"It has been a particular privilege to serve as both Minister for Justice and Equality and also Minister for Defence.
"I want to thank you for affording me the opportunity to be of public service in these positions and I hope that the reforms and change implemented over the past three years will endure and prove to be of lasting benefit to all reside in our State" the statement continued.
Mr Shatter described Mr Kenny as an "extraordinary Taoiseach doing an extraordinary job during what has been a difficult time for our country and I want to thank you for all the assistance and support you have given to me".
The former minister thanked Tanaiste Eamon Gilmore and his Cabinet colleagues in "both parties".
He paid a special word of thanks to members of the Fine Gael party, the "wider Fine Gael membership" and the "general public who have been supportive over the past three years through some difficult times and who also have enthusiastically supported and embraced the legislative and other changes which you gave me the opportunity to bring about.
"I wish the government well for the remainder of its term in office," Mr Shatter's letter concluded.
Tanaiste Eamon Gilmore said Alan Shatter's resignation was "inevitable".
The Labour leader paid tribute to former Justice Minister Alan Shatter for "his outstanding record of accomplishment as Minister for Justice and Defence".
"While I believe that the Minister's decision to resign was, in the circumstances, inevitable I want to pay tribute to Alan Shatter for his work in the Departments of Justice and Defence," Mr Gilmore said in a statement this evening.
Taoiseach Enda Kenny said in the Dail: "I've never seen anybody with the work ethic of Alan Shatter."
Mr Shatter has resigned on foot of receipt of the Guerin report into alleged wrongdoing by Gardai, raised by whistleblower Maurice McCabe.
Mr Kenny told the Dail that Mr Shatter informed him by writing of his intention to resign after the Guerin report found there was "inadequate investigation and analysis" of the allegations raised by Garda McCabe.
The announcement was made shortly before 4.45pm this afternoon to a shocked Dail, where some junior ministers only learned of the news as they entered the chamber.
Mr Kenny paid tribute to Mr Shatter who he said was not involved in "anything underhanded, illegal or any scams."
He added: "I've never seen anybody with the work ethic of Alan Shatter."
Speaking to Taoiseach Enda Kenny, Sinn Fein leader Gerry Adams said Mr Shatter 'actively sought to minimise the GSOC investigation', asking did Mr Kenny expect further resignations as a result.
"No, to both of your questions," Mr Kenny responded. "He read the report, made the decision to resign and I accepted it."
He went to praise the former Justice Minister's work ethic.
"I've never seen anybody with the work ethic displayed by Alan Shatter, in terms of his work ethic displayed here," he added.
"When I saw that  GSOC did not cooperate with the senior counsel, GSOC expressed difficulties in providing finalised information to him," Mr Kenny said.
"Clearly, Deputy Shatter as Minister for Justice, pointed out to the inadequacies as he saw them.
"If GSOC were able to follow through on complaints made to it, perhaps  this particular report wouldn't have been necessary at all.
"We also have, as you're aware, other matters as far as the Garda Siochana are concerned."
The Independent TD Mick Wallace told RTE News that "challenges arrived at his table, we gave him a lot of evidence and we also got, obviously, allegations and it was disappointing how he dealt with them".
Read More:
Read: Speculation on Leo Varadkar, Fergus O'Dowd and Charlie Flanagan to move following Shatter's resignation
Read: Tanaiste Eamon Gilmore: Alan Shatter's resignation was 'inevitable'
Vote: Justice Minister: Who will sit on the throne next? Vote in our poll here
Read: Alan Shatter and the Sean Guerin Report: why the Minister resigned
View: Alan Shatter resignation letter
Read: A Justice Minister with aspirations to be a racy novelist
Read: Read Alan Shatter's final words as Minister for Justice: 'Integration is the only way forward for changing society'
Read: John Drennan: Shattered Shatter runs out of credit - but will he bring Enda Kenny with him?
View: Twitter Reaction to the resignation of Alan Shatter
View: Alan Shatter resignation letter