Garda investigation after iconic ancient stone at Hill of Tara vandalised with paint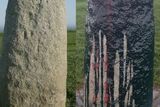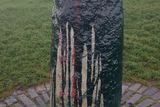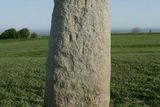 Gardai are investigating vandalism to the Lia Fail Standing Stone at the top of the Hill of Tara in County Meath.
Members of An Garda Siochana are understood to be carrying out a forensic examination of the site after paint was poured over the stone sometime overnight.
At least half of the five thousand-year-old granite has been covered by the paint.
Tourist guides at the ancient site discovered it had been vandalised when they arrived to work this morning.
It is not the first incident of vandalism at the monument, it had been previously damaged in 2012 when it was believed to have been struck with a hammer or similar instrument.
Minister for Arts, Heritage and the Gaeltacht Jimmy Deenihan condemned the incident to the iconic stone.
"This act of mindless vandalism, on one of our premier archaeological sites, is truly shameful," he said.
"The national monuments at Tara, which include this standing stone, form part of our national heritage and history.
The iconic stone is 5,000 years old
"Not only are they cherished here in Ireland, they are also nationally and internationally renowned.
"I call for anyone with any information about who may have been responsible to inform the Gardai," he added.
The Lia Fáil Stone features extensively in ancient texts.
The granite stone is associated with the inauguration rites for the Kings of Tara and was moved to its current position in the early nineteenth century.
Paint covers more than half of the stone