From Apprentice to master builder – former contestant unveils revolutionary €10m housing scheme in Dublin 6
Jamie Moran, who appeared on The Apprentice in 2010, is the developer behind four €2.5m houses in Ranelagh which are being built using cast concrete shapes manufactured at a factory in Cavan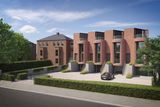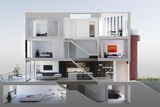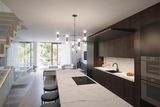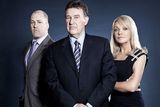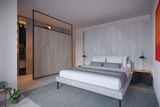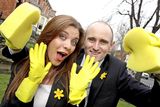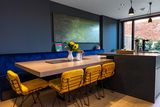 The Apprentice with Bill Cullen became TV3's most watched Irish-made programme between 2008 and 2011, with one especially hectic instalment attracting an audience of more than 600,000.
The franchise, which originated in the USA with Donald Trump as the entrepreneurial 'mentor' with the power to hire and fire, saw candidates compete via business tasks for the ultimate prize of a 'dream' job with The Donald.
In the UK, Sir Alan Sugar took the reins and responsibility for issuing the show's signature pointy-fingered air jab, accompanied by the franchise's catchphrase — "You're fired!"
And so in 2008, TV3 launched the Irish version with then Renault supremo Bill Cullen in the driving seat. But things became surreal as the programme's Tiger era-infused capitalist ethos ran slap bang into the worst economic crash in generations.
Perhaps partly because of that, 2010's season three proved most memorable. Ireland was going into a bailout and Big Bill himself was sinking into financial woe. The memorable characters from that group included Jamie Moran, who told the audience he was going to be a successful property developer — just as Irish bricks and mortar was skidding into its blackest patch since Cromwell.
"Bill told me, you'll do well but you'll always work for yourself," says Moran, who was fired in episode ten for what Cullen described as Moran's "dismissive nature" in teamwork. In the end, he was beaten by former nightclub dancer Michelle Massey, who emerged as the winner of a €100k job at Renault.
Moran walked out with his wheelie suitcase into Ireland's economic meltdown to begin working on small domestic extension projects.
By 2014 his enthusiasm and quality of work had earned him a punt from an investor who agreed to help fund a luxury pocket scheme named Pirton in Dublin 14. In a slowly recovering market, three of the four were prebooked, and he's been busy ever since.
Most recently he completed sales of a scheme of luxury homes in Ranelagh, Dublin 6.
And this week, the good burghers of Ranelagh watched agog as construction on his latest site on Charleston Road rose from ground level to second floor level in the space of four weeks. Within six weeks the outer shells of four four-floor buildings will be up, something that normally takes at least six months. The luxury homes at 56-59 Charleston Road are set to launch this weekend.
The speed is thanks to the revolutionary cast concrete construction technique involved. This has seen the homes manufactured (rather than built) in pieces at a factory in Cavan over a four-month period and the parts shipped to site and lifted into place, fitting into each other like a great big Lego set.
Each of the four homes comprises 35 different readymade cast concrete shapes, the largest of which weighs 16 tonnes.
While the manufacturing technique has been employed for commercial buildings and tower blocks in recent years, Moran believes his is the first scheme of houses to deploy it and that eventually, all homes will be built this way. It could be a big fix for the housing crises.
"The level of craft and finish that can be achieved in a factory under a roof is far better than that on a traditional site where all the trades are milling around together. And our process reduces construction waste by 80pc," he says.
"These days it's common for block workers to do the insulation. While they take care that the blockwork is done right, they're doing the insulation for free and have no incentive on quality there. Once the job is done, you can't see the insulation. How do you check it? Our process includes insulation in the pour. It's all there to see. It also makes it easy for us to put underfloor heating on every single floor."
The brickwork goes first into a cast with the insulation and the concrete follows. "It's been amazing to watch them go up," says Moran, who works closely with wife Lauren in the running Jamie Moran Homes (JMH). Lauren also runs The Wellness Method, a life coaching and nutrition consultancy for women.
The homes are selling from today through Youngs priced at €2.5m each. They are designed by architect Pierre Long to echo the Victorian styles of the area but in contemporary forms. Each measures just over 3,000 sq ft.
The four storey properties come with three roof gardens and garden space to the rear with shared parking at front for up to three vehicles per house.
Each house has four bedrooms, three of which are ensuite and the master has its own cleverly accessed dressing room.
They're also designed to eliminate what Moran calls the "Christmas tree floor syndrome" typical in restored three and four-floor period homes in D6.
"Except at Christmas everyone lives downstairs, sleeps upstairs and passes the whole middle floor on the way to bed. But not in these houses," says Moran who has placed a vast open plan kitchen and living space on that vital first floor, capitalising on the fact that planners will generally only permit big kitchen living extensions to older homes at garden level.
Buyers can have a flexible layout, especially on the garden floor which can be a self-contained apartment of 600 sq ft or else a combination of studio, gym, den or other options. There's also a drive-in heated garage as standard.
Another unique feature is the large, specially ventilated laundry room on the top floor. "Why bring your socks and jocks downstairs to wash them and then have to bring them all right back upstairs again?" asks Moran.
Why indeed?