Firms run by O'Donnell paid €330k in settlements for underdeclared taxes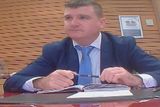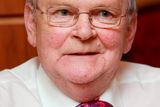 Businesses run by a councillor at the centre of a corruption storm have made settlements with the taxman totalling over €330,000.
The companies, which were run by Independent councillor John O'Donnell, appeared on Revenue tax defaulter lists earlier this year and in 2011.
A preliminary review of Cllr O'Donnell's conduct was launched yesterday by Donegal County Council after he was secretly filmed seeking a payment in return for agreeing to help a company with a planning issue.
This may lead to a full investigation by the council.
A similar process is underway at Sligo County Council, where Cllr Joe Queenan resigned from Fianna Fáil after being filmed agreeing to secretly work for a fictitious windfarm investment company.
But no review has been announced to date in relation to the conduct of Monaghan county councillor Hugh McElvaney, who was recorded demanding a Stg£10,000 payment to help with a planning issue.
Revenue records show companies run by self-proclaimed entrepreneur Cllr O'Donnell made three settlements after audits by the taxman found they had underdeclared VAT.
None of the settlements related to the councillor personally.
The first settlement, amounting to €107,670 in taxes, interest and penalties, related to building contracting company Kilmac Formwork Ltd in 2011.
The company has since gone into receivership.
A second settlement involving the same company, totalling €184,523 in taxes, interest and penalties, was published last June. The same month, another company run by Cllr O'Donnell, wool dealer K&F Sarolla Teo, made a settlement of €41,152 in taxes, interest and penalties. The firm is now dissolved.
The independent councillor for the Letterkenny area was filmed agreeing to "work quietly" behind the scenes to help the company with a zoning issue. He pledged to lobby other councillors and said he wished to be paid through another individual, explaining the arrangement would be for his "protection".
The councillor has denied any wrongdoing and has threatened to sue RTÉ, alleging he was entrapped.
Donegal County Council confirmed yesterday it was examining matters raised by the 'RTÉ Investigates' programme "as an issue of urgency and priority".
"This examination is being conducted in the first instance by the ethics registrar in the council," a spokeswoman said.
Under local government procedures, the registrar would have to notify the chairperson and chief executive of the council of any issue of concern and they in turn can recommend a full investigation by the council. That investigation would have the power to refer a file to the Director of Public Prosecutions.
It is only when this process is completed that the matter can be referred to the Standards in Public Office Commission. The commission also has powers to refer reports to the DPP.
In the immediate aftermath of the broadcast, Sligo councillor Joe Queenan resigned from Fianna Fáil.
He was filmed agreeing to work behind the scenes for the fictitious company. He did not ask to be paid, but said he was looking for investors for a future project.
A letter issued by his solicitor denied he was corrupt.
In a statement, Sligo County Council said its ethics registrar was conducting a review and that further consideration would be given to the issue when that review is complete.
It was unclear last night what action was being taken in Co Monaghan in relation to Cllr Hugh McElvaney. He has denied any wrongdoing, claiming he was aware of the RTÉ sting and "played along" as he wanted "the opportunity of showing RTÉ up".
Calls to the council's spokesperson and ethics registrar on Monday and Tuesday were not returned.
Defence Minister Simon Coveney urged gardaí to investigate, describing some of what was broadcast as "blatant corruption and self-centred greed".