Electric Picnic 2022: 'Extra-special' return for festival – as tickets for next year's event on sale this Saturday
It rained, it poured... but fans' fun, fashion and frolics stood firm as EP bounced back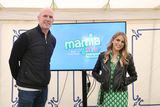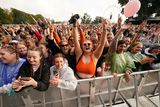 In the words of Electric Picnic boss Melvin Benn, it had been an "absolutely glorious" event that was well worth the wait.
As proof that the three-year wait only served to boost its popularity, it was an action-packed weekend at the sold-out festival – filled with live music, comedy, performing arts, dancing in the rain and making memories.
Even the downpours on Saturday couldn't dispel the feel-good vibe and the evident relief that the festival has returned to the events calendar.
Organisers saved the best until last as The Coronas, Snow Patrol and Arctic Monkeys brought the curtain down at Stradbally last night, blasting out the hits on the main stage as 70,000 music fans savoured the atmosphere of the closing day.
Mr Benn, of Festival Republic, confirmed that tickets to the 2023 event will go on sale this Saturday – and this time around, people won't be hanging onto them for several years.
"The amount of people stopping me and telling me, 'We've waited for this.' It feels to me that the Picnic is the point where Covid gets put behind," he said.
"This is the last show where people were hanging on to tickets for two or three years – so from this point onwards, there is nobody hanging onto a ticket that they bought in 2019 or 2020 or whatever. This is like, it's gone now, we've moved on."
The Picnic will be "fully digital" for the first time ever so people won't be able to queue at a Ticketmaster outlet and buy their ticket but its loyalty programme for previous attendees will still be in place.
Mr Benn made a raft of changes for the return of the festival but said he was happy to maintain the capacity at 70,000 and doesn't plan on making any more tweaks to what he feels is a successful formula.
"It's hard for me to know what's better, in a way. Is it what we present or is it what the audience bring and the two collide? One of the amazing things about Electric Picnic is the spirit, the craic and it is touchable, it's different, it's identifiable," he said.
"And of course, amazing as it is what we present on the stage and people ultimately come for that. But it's the participation of the crowd and their enjoyment of the festival. When those two collide, it really works."
He said he was "delighted" with the success of this year's event. "This year is that extra little bit special because of the frustration of last year, when I really felt it could happen.
"But the thing that sets the Picnic apart is the spirit of the audience – it really is a spirit of Ireland being together, young and old being together. It's a spirit of enjoyment, just being in a field."
He already has some major headline acts booked for the 2023 event but was keeping them under wraps, for now.
The ambiance was relaxed for the third day of the Picnic, with no sign of festival fatigue among the die-hard fans who had roughed it in the sodden campsites. As usual, festival fashion was entertainment in itself – with bucket hats, shell suits, loads of Lycra and of course, wellies.
Fresh to the festival was actor and writer Amy Huberman, who was interviewing rugby legend Paul O'Connell in the Leviathan tent for Aldi's Mamia & Me podcast.
"I thought it was going to be chaos down here but it's actually grand, it's pretty civilised with no rain," she said.
"I was going to stay down tonight but it was a busy week with book stuff but now that I'm here, I'm going to have total FOMO (fear of missing out) and want to stay down.
"It's been too long since we were here. The atmosphere is just brilliant. So even if we were all wrestling in mud, it would still be the craic."
The VIP areas in Casa Bacardi and the 3 All for Music sections were packed with familiar faces as they enjoyed a bird's-eye view of the main stage.
Guests included actor Chris Newman with girlfriend Jo Archbold alongside Erica Coady, Paralympian Ellen Keane, 2fm's Tracy Clifford, singer Denise Chaila and members of Wild Youth, who performed a DJ set.
The newly crowned Miss Ireland, Dr Ivanna McMahon was down at the Picnic for the first time – and said she was even camping for the full festival experience.
Making her stage debut was Vogue Williams with comedian Joanne McNally who performed in the Electric Arena area to a full-packed tent. In fact, they proved so popular thanks to their hit podcast that many people couldn't even get into the venue.
Cutting a relaxed figure was Vogue's husband Spencer Matthews, who said performing at the Picnic was a "childhood dream come true" for his wife.
"The atmosphere is palpable, it's absolutely amazing, what a fantastic festival. I thought they were incredible, so what a way to kick it off. Am very much looking forward to seeing Arctic Monkeys later," he said.