Election 2016: Martin seeks end to water charges as price for Fine Gael power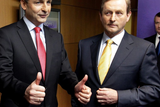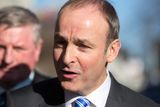 Niall O'Connor, Kevin Doyle and Cormac McQuinn
THE abolition of water charges, a major package for rural Ireland and the introduction of a €2,000 childcare tax credit in October's Budget will be among Fianna Fáil leader Micheál Martin's key demands in return for supporting a minority Fine Gael government.
But Mr Martin has been told that his TDs would be more likely to back such an arrangement if it did not involve Enda Kenny as leader of Fine Gael.
With just nine days to go until TDs meet to elect a Taoiseach, Fianna Fáil has dramatically raised the stakes as the fallout from the election continues.
Senior sources have confirmed that the party would be willing to support Fine Gael as part of a 'Tallaght Two Strategy' - but that this may only last one budget.
And a series of Fianna Fáil demands would have to met in return for the party's support. These include the abolition of water charges, which sources say is a 'red-line' issue for Fianna Fáil.
The party will also demand the introduction of a €2,000 childcare tax credit for working families.
In phone calls with deputies in the last 48 hours, Mr Martin has also been told to demand a major package for rural Ireland which focuses on broadband, jobs and roads.
But in a worrying development for Fine Gael, Fianna Fáil TDs are insisting that an arrangement which involves supporting a Fine Gael minority government would not be passed by an ard fheis unless Mr Kenny was replaced as Fine Gael leader.
"The Fine Gael leadership is an issue for Fine Gael, but certainly it would be easier for our TDs to agree to such an arrangement if Kenny was gone," said a party source.
Mr Martin last night made his first real play ahead of any future negotiations with Fine Gael, insisting that a series of Dáil reforms must be agreed before any new government takes office.
Read more:
"We believe that the new Dáil should not represent more business as usual - that it should involve a decisive move towards a reformed politics," the Cork South Central TD said.
In a statement, Mr Martin set out a deadline of two weeks for each Dáil grouping to make nominations to a negotiating committee.
Principles
That body would then be given another fortnight to agree "core principles", which would be adopted by the Dáil immediately.
Fianna Fáil's list of desired changes include:
Senior Fianna Fáil sources insist that Mr Kenny will be forced to serve as a caretaker Taoiseach until beyond Easter in a move that will allow deep tensions to surface within Fine Gael over its disastrous election results.
"He can go try and woo the Healy-Raes and others but at the end of the day, he won't be able to provide a stable government without our support," said a senior Fianna Fáil source.
Meanwhile, the blame game within Fine Gael has intensified, with ministers and TDs privately criticising the Taoiseach's key advisers for the botched campaign.
One senior figure, speaking anonymously, hit out at what they described as the "macho nature" of the campaign.
"Not a single woman, including Frances Fitzgerald, was giving any significant role in the campaign," the source added.
As the post mortem continues into the result, which saw the party lose in excess of 20 seats, the finger is being pointed at senior figures who advised the Taoiseach.
Read more:
Throughout the party, it has been claimed that the election strategy proved disastrous, particularly in rural Ireland.
"It was a top-down approach. The elderly, in particular, punished us because they felt no compassion whatsoever from Fine Gael. That is a huge problem," said one minister.
Fine Gael ministers were due to meet today, prior to a full Cabinet meeting, to discuss the fallout of the election.
The Cabinet meeting has a number of procedural issues to deal with but is expected to mostly focus on how the Government can continue to work in the coming weeks and possibly months.
The Taoiseach has not yet sought support from any other party leaders or Independents, although he has spoken with Labour Party leader Joan Burton.
Labour sources last night insisted that the party would not be involved in any negotiation talks and that its members wanted the party to return to opposition to rebuild.
However, Labour will endorse Mr Kenny as Taoiseach on March 10. Fianna Fáil leader Michéal Martin will contest the election, as will Sinn Féin leader Gerry Adams.
A number of Independents told the Irish Independent they would be willing to listen to the Taoiseach if he made a case for re-election.
Waterford TD John Halligan said he would "speak to anybody" and that he didn't have 'red-line' issues. He said one local priority would be increasing services at Waterford Hospital.
"We haven't even 24-hour cardiac services. If someone gets a heart attack, they've to go to Cork," he said.
Mr Halligan added that there were national issues "which are very dear to me as well", citing water charges and the property tax. He said the Government parties had "underestimated the anger" on those issues.
Independent Michael Healy-Rae said: "Anything that we'd ever do would always be with the best interests of the people and for the county of Kerry at heart. Our phones are turned on all the time. If somebody rings us, we'll answer them."