Opening school doors to migrant teachers
Course is providing foreign-trained educators with skills to work here, writes Katherine Donnelly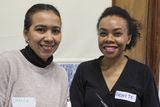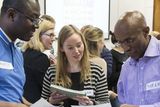 In a classroom in Dublin's Marino Institute of Education last Saturday, a small but important building block was laid with a view to improving the structural diversity of Irish education.
Almost 40 students, all foreign-trained teachers living in Ireland, were on the first day of a bridging programme aimed at helping them to develop and apply their knowledge and skills in an Irish context - and, importantly, to get work here.
Participants, who include both primary or post-primary teachers, came from 17 countries: Spain, India, Poland, Brazil, Hungary, South Africa, Croatia, UK, Italy, USA, Zimbabwe, Eritrea, Russia, Iceland, Romania, Lithuania and Latvia.
They were selected from about 140 applicants, following a call last year. To date, about 550 teachers who gained their qualification in another country have expressed an interest in the programme.
While about 12pc of the pupil population is from an immigrant background, migrant teachers face obstacles when it comes to getting work. They are a loss to the system, as international research shows the benefits to schools and students of having a diverse teaching staff, including promoting integration. The Marino project is funded by the Office for the Promotion of Integration of Migrants in the Department of Justice and Equality.
The 'Being a Teacher in Ireland' programme has been specially designed, with its content based on an analysis of what both the migrant teachers and school principals said they needed.
There are four days of face-to-face lectures/workshops, the first of which was last Saturday. There is also an online teaching and learning component, and at least five days' school experience, to be completed between February and April,
Foreign-trained teachers coming into Ireland cannot automatically walk into a job. For a State-paid post, they need Teaching Council registration, which can be a time-consuming process, involving gathering documentation from their home country and making up qualification shortfalls, where necessary. For instance, if they want to be primary teacher, Irish is an added requirement.
More than half of the students on the course now have their Teaching Council recognition, but even that is not enough, which is where the Marino programme comes into play.
The course is about helping them to understand the culture and workings of the Irish education system and to overcome invisible obstacles to getting a job, such as lack of social networks and the sort of discussions among cousins and friends where opportunities may be mentioned.
One of the co-ordinators of the Migrant Teacher Project is Dr Emer Nowlan, who says that, as in any other profession, "if you are a migrant, it is harder to get a job; you are expected to meet a higher standard".
She says the course will familiarise the teachers with the Irish curriculum and with classroom management styles, explaining that "in some countries, teacher preparation is very similar to Ireland, but not everywhere".
The make-up of Irish education is also a mystery to many, with systems in most other countries operated through State structures rather than largely along religious lines.
"They are all aware of certain things, like the dominance of the Catholic Church, but it is so complicated," says Nowlan. She says foreign-trained teachers will be helped to understand the differences in the school ethos so they can address questions such as: "Where do you want to work? How do you know what type of school it is? What kind of culture might you expect there?"
Migrant teachers face a vicious circle of finding it harder to get a job and, as a consequence, not gaining necessary experience. Nowlan says both principals and migrant teachers identify this as a gap.
She says some teachers are "blue in the face" trying to be even a volunteer in a school, but are not being given the opportunities.
On the other hand, principals say they "would love to see these people with some experience of the Irish context. But the teachers don't have local networks; they need the school experience, to get them in the door".
One of the Marino group is Latvian-trained primary teacher Gunita O'Connor, who volunteers in her children's school.
She came to Ireland 13 years ago and has settled in Kells, Co Meath, with her Irish husband. With her two children getting older, she decided to try to restart her career, building on the confidence she has gained from her volunteer work with small groups.
She already has conditional recognition from the Teaching Council, but hopes this course will help her to dip her toe into the Irish system, starting as a substitute or support teacher.