Dubliner Orla lands dream job after battle to do Leaving Cert Applied course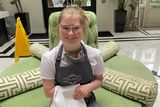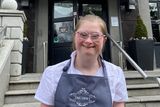 A Dublin student whose parents successfully campaigned against a decision by her school to scrap the Leaving Cert Applied course has now been offered a job in the hotel where she did work experience as part of the curriculum.
Orla Fallon (18) was one of the students with special needs in Clonturk Community College, an Educate Together/CDEBT school in Whitehall, Dublin.
They had started there in 2016 on the understanding that they would be able to complete the Leaving Cert Applied course, but this option was withdrawn in February last year.
Parents angered by the decision felt their children were being set up to fail and that the school was not honouring its ethos, and they held pickets at the school gates as a result. After days of public protest there was a meeting between Department of Education officials, CDETB (City of Dublin Education& Training Board), school management and parents, and the decision to axe the Leaving Cert Applied course was reversed, meaning Orla and the other students could get the education they hoped for.
Orla, who has a Down Syndrome diagnosis, joined the Leaving Cert Applied course, and as part of it she attended work experience in the nearby Bonnington Hotel. The college and staff are committed to the success of the LC Applied and have fostered strong ties with local businesses to facilitate such work placements.
And the hotel staff were so impressed with her progress and rapport with the public that they offered her a job. Orla now works in the hotel restaurant on Thursdays doing everything from placing menus and taking food orders as part of the hotel team.
"At the end of May the staff asked if they could bring Orla on to the crew for a few hours on a Thursday, and we are absolutely delighted," said Orla's father Gerry.
"Her confidence and self-esteem has gone through the roof as a result, and she's really enjoying being part of a team. She keeps mentioning the 'team' aspect of it, and it has made the whole battle for the Leaving Cert Applied course worthwhile."
"Orla brings a richness to our house, and her sense of achievement is joyful. Through such work placements, the LC Applied not only educates students like Orla but affords them the opportunity to develop those important life skills and apply them in the workplace. Orla has developed a tremendous sense of value as an individual and an understanding of her own meaningful contribution as part of team at work. She has described her time at the Bonnington as her dream job," he added.
Loraine McGuinness, the bar supervisor at the Bonnington Hotel, said Orla had been on a 'show around' of the hotel as part of her course, and that developed into the work experience slot.
"When she pulled her first pint we took a photograph of her and she did the pose herself, as natural as could be. It shows just how much she has slotted into the role. We all look forward to her coming in on Thursdays," she added.