Dracula creator Bram Stoker also had painting in his blood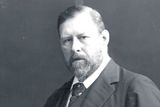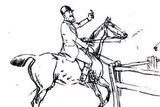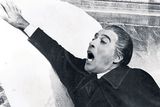 Ken Sweeney Entertainment Editor
A SERIES of sketches by writer Bram Stoker have ignited interest from 'Dracula' fans worldwide.
Although best known for creating the blood-thirsty count, Dublin-born Mr Stoker was one of 12 founding members of the Dublin Painting & Sketching Club, or Dublin Sketching Club, as it was known when set up in 1874.
Now to mark the centenary of the author's death, a series of drawings attributed to Mr Stoker will be unveiled at the Irish Writers' Centre on Parnell Square on Tuesday.
The pen drawings, depicting a number of riders and horses, were found in the Dublin home of the writer's elder brother, William Thornley Stoker, whose relative Ivor Stoker Dickson recently donated copies for an exhibition in Dublin.
"Bram Stoker is known as the writer who created 'Dracula' but he must have had some skill as an artist to have been on the committee for the Dublin Sketching Club, some of whose members were RHA artists. Despite that, his artistic record is slight," Tom Scott, president of The Dublin Painting & Sketching Club, told the Irish Independent.
However, the art group say they have been amazed at the level of interest in the drawings by Mr Stoker.
"This is the centenary of Bram Stoker's death but there is nothing formally happening in his home city of Dublin to mark it," he said.
"Perhaps that's why people have honed in on this. Although there is a Bram Stoker Society in Ireland, generally he is undervalued as an Irish writer but internationally he has huge significance with 'Dracula' translated into 31 languages worldwide."
To also mark the centenary, club member Aidan Hickey has created an oil painting featuring Mr Stoker which will be presented to the Irish Writers' Centre at the same function on Tuesday to be attended by Dacre Stoker, the great grand nephew of Bram.
Mr Hickey's painting along with the Stoker sketches will then go on display at the Dublin Painting & Sketching Club's 134th exhibition which opens at the Concourse Gallery, Dun Laoghaire-Rathdown County Hall in Dun Laoghaire on Monday, April 16, and features 290 works by 80 well-known contemporary Irish artists.
Abraham (Bram) Stoker was born in Dublin in 1847. Growing up, his mother told him a lot of horror stories which may have influenced his later writings.
In 1864, Mr Stoker entered Trinity College Dublin and 12 years later he met Henry Irving, a famous actor, and they soon became friends. In 1878, he accepted a job in London as Mr Irving's personal secretary and he was joined by his new wife Florence Balcombe.
His first book 'The Duties of Clerks of Petty Sessions in Ireland', was published in 1879. His first book of fiction, 'Under the Sunset', was published in 1881.
Although best known for 'Dracula', Stoker wrote 18 books before his death in 1912.