Doctor: using brain-dead woman as incubator was noble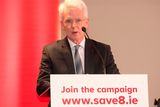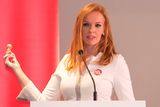 The case of a clinically dead Irish woman whose body was used to artificially incubate a 16-week-old foetus has been described as "noble" by a leading speaker at the 'Save the Eighth' campaign launch.
Obstetrician John Monaghan was asked to comment on the case after Master of Holles Street Maternity Hospital Rhona Mahony cited it as an example of why the Eighth should be repealed.
Dr Mahony had described the case - in which the woman was technically known as a cadaveric incubator - as macabre during a special event planned by the pro-repeal group 'Together for Yes'.
"I didn't think there was anything macabre about it; it was a noble thing although almost an impossibility that the baby could be kept alive until such a time where it could survive," he told those attending the event in Dublin's Gresham Hotel.
"There have been cases where women have had a brain haemorrhage and been kept alive and produced a baby," he said.
The Irish political establishment came in for heavy criticism at the launch.
Minister for Health Simon Harris, Taoiseach Leo Varadkar and Tánaiste Simon Coveney were criticised for changing their minds on abortion.
"Why should anyone believe their promises on abortion now," said campaign manager Niamh Uí Bhriain.
"There have been more flip flops in the Daíl in the last three years on abortion than there are at the average beach.
"This referendum is happening because Katherine Zappone demanded it as a condition for her support for the Government," she said to loud claps and cheers.
But the biggest applause came after the speech by Dr Eimear Thornton who said: "As a mother of four children, I have far more experience in pregnancy than Katherine Zappone or Leo Varadkar."
Health professional Marie Donnelly said it was "fake news" to say abortion could ever be classed as "healthcare".
She also accused the Government of planning to turn Irish GPs into abortionists and criticised proposed legislation for GPs to prescribe abortion pills: "How does a GP decide how far along a baby is?"
Ten young women spoke about their personal experiences with pregnancy including fatal foetal abnormalities.