Divers died after going back under at U-Boat wreck in bid to avoid 'the bends'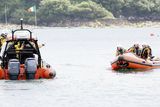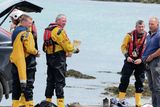 MYSTERY surrounds a tragic incident that resulted in the deaths of two divers at the wreck of a World War II submarine.
The two men, visiting from the UK, were diving near the wreck of the 1945 German U-Boat U-260, 4km off Castlehaven, Co Cork.
Jonathan Scott (62), who was living in Australia, but was visiting his sister in Ireland, and 66-year-old Steven Clarke were taking part in a recreational dive to the wreck of the sunken German submarine yesterday.
It is understood the pair surfaced after their dive – but then indicated they were descending again in a bid to avoid decompression illness after omitting safety stops.
Divers who have spent time at depth have to return to the surface slowly, making scheduled safety stops to allow nitrogen to leave the body in order to avoid decompression illness also known as 'the bends'.
At around 9.40am, one of the divers floated to the surface, he was unconscious.
The alarm was raised immediately and a search operation was launched by Valentia Coast Guard with the Waterford and Shannon helicopters, the Toe Head-Glandore Coast Guard, Baltimore RNLI, local boats and later the naval vessel, LE Aisling.
The first diver, Mr Clarke, was airlifted to Cork University Hospital where he was later pronounced dead.
A six-hour search came to an end at 4pm when the second diver's body was found in 43 metres of sea water 300m south-west of the wreckage.
John Kearney, of the West Cork Underwater Search and Rescue Team, said that conditions yesterday morning were favourable for a dive, with underwater visibililty of up to 10m and a moderate breeze. The deceased were experienced divers, as was the boat operator.
CONDITIONS
Conditions deteriorated over the day, however, and Mr Kearney said that divers were lucky to have had the opportunity to retrieve the second victim before it became too difficult to continue the search.
Mr Kearney said he could not explain what had happened.
"I could not speculate, the conditions were very favourable and he was with a very experienced operator so it is very, very difficult to understand, until a post mortem is done, what happened to the man," Mr Kearney said as he came ashore following the retrieval of the second body.
"The family and friends were very relieved to make a recovery so quickly because its so important to have closure," he added.
The pair had travelled to the site with dive operator Jerry Smith from the Aquaventures Dive Centre in Baltimore. Diving equipment was removed from the boat, 'Wave Chieftain', for examination.
The German submarine U-260 was scuttled in 1945 and lies in 45m of water. It can only be dived on slack tide.
Local whale watch tour operator Colin Barnes discovered the wreck in 1975. It has since become popular with sports divers.