Did Leo Varadkar outflank Justin Trudeau in battle of the socks?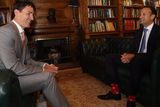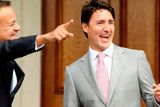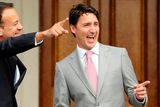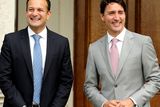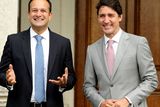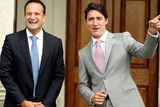 They're calling it a .... sock off? Sock diplomacy? Who knows.
Taoiseach Leo Varadkar welcomed Canadian Prime Minister at Farmeigh this morning as part of his three day tour of Ireland.
In a nod to Trudeau's appreciation of colourful socks, Varadkar wore a pair of postbox red socks with Mounties and Maple Leaves.
Meanwhile, Trudeau opted for striped socks as he continued his trip.
Mr Trudeau will meet President Michael D Higgins at Áras an Uachtaráin later today.
The visit comes ahead of a G20 summit in Germany, where a proposed trade deal between Canada and the EU and Brexit will be high on the agenda.
Mr Trudeau has several other engagements in Dublin, including a business lunch and a visit to see the Famine memorial statues in the city centre before a state dinner is hosted by the Taoiseach.
The Canadian PM is accompanied on the trip by his wife Sophie Gregoire Trudeau and their young son Hadrien.