'Desperate' mum sleeping outside Dáil in hope of getting life-saving drug for sick daughter (14)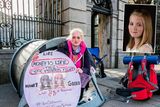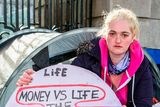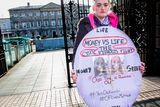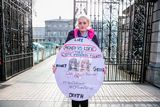 A desperate mother-of-three has been sleeping outside the Dáil in the hope of getting the life-saving Orkambi drug for her young daughter who has Cystic Fibrosis (CF).
Hazel Robinson from Drumlish, Co Longford, told Independent.ie that she'll do "everything in her power" to help her sick daughter Gypsy Ann (14).
"My daughter Gypsy has Cystic Fibrosis but recently she got accepted onto the Orkambi drug programme on compassionate grounds. It's great that she's getting to try it but it's horrible in another sense because we've run out of all other options. Her consultants said that the only other thing after this is a lung transplant."
Ms Robinson said she has done "everything she can think of" to gain attention for Gypsy.
"I went on Facebook crying my eyes out when Gypsy started coughing up blood. I'm appealing to the public, to the TDs, to Simon Harris, anyone that can help get us access to Orkambi for our kids. While I'm begging my daughter's lungs are getting more and more damaged.
"It's horrible a 14-year-old has to go through this. We've witnessed as a family how cruel Cystic Fibrosis can be."
The HSE and pharmaceutical company Vertex are due to meet again today to discuss a deal to fund the cost of Orkambi, priced at around €150,000 a year per patient and another CF drug, Kalydeco
"What is more important money or life? No matter how much you can debate it there are people suffering.
"I just want it to be over. Simon Harris said for the past month that he's waiting to finalise this and I just hope he keeps to his promise because we can't go on like this. What more can we do? We're begging for our kid's life. No more children should be suffering unnecessarily."
Ms Robinson said that since her daughter was born she has "mourned the life her daughter should have had."
"Since my daughter was born we've been mourning her life. We were given a time frame of how long she was going to live. After she was born I mourned a life she couldn't fulfil. She might never go to college, get married and have kids. She might not have a life.
"Then all of a sudden the drug came along that could change this and we were left in a state of despair. We were left campaigning outside the Dáil, begging for my child's life."
The mother-of-three said she bought a one-way ticket from Longford to Dublin and is staying outside the Dáil until someone speaks with her.
"I was taking part in the water protest and I thought if I can walk the streets for the protest against Irish Water, surely I can do something more proactive for the kids with CF.
"I understand that nobody was available over the weekend but I want people to talk to me."
Roughly 540 people in Ireland are eligible for the Orkambi drug, according to Ms Robinson.
"They need these drugs before the lung damage is done not after. Gypsy should have gotten this drug before the damage started. I don't want children to end up in the situation that she has been in all year."
Ms Robinson has urged the public to attend a protest march on Wednesday at 1pm outside Dáil Eireann.