Council 'unaware' of McGregor's plans to house homeless families in eight homes in north Dublin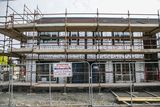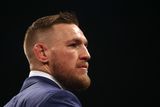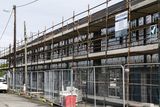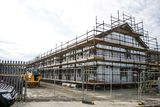 Ryan Nugent, Jane Last and Ian Begley
The main local authority in charge of managing services for homeless families said they are unaware of Conor McGregor's plans to help alleviate the situation.
In a post to his instagram account overnight, the MMA superstar said he was building eight houses which he was going to give to homeless families staying in hotels.
McGregor posted ten images from the construction site, which showed a row of new terraced homes under construction.
The homes are located at the corner of Schoolhouse Lane and Magenta Crescent in Santry in north Dublin at the site where a vacant commercial warehouse had been situated.
The Crumlin fighter claimed he was building eight three-bedroom houses which would be earmarked for homeless families currently residing in emergency accommodation such as hotels.
"Back on the site today, it has been a while. This is my first property development. We have eight homes here closing in on finish.
"Three bedroom houses, designated for families that currently reside in hotels around the capital, without a home to call their own. But not for long. Through the storm comes the sun.
"Walking around this land and these homes today, meeting all the neighbors, knowing that soon there will be families living here, creating their own memories, and building back their lives, gives me great pride.
"Ireland forever. Ireland first. Ireland always," he wrote.
When contacted by independent.ie, a spokesperson for Dublin City Council said they were not aware of the development, and were not involved in any housing development with McGregor.
However, the spokesperson did stress that McGregor may be working with other parties in this development and any project or planning application may be under another name.
A senior council source added that while any additional permanent accommodation in the city is welcome "we've heard nothing at all about it. It's us he should be getting in touch with".
The Dublin Regional Homeless Executive (DRHE) is provided by Dublin City Council, which is the statutory local authority which responds to homelessness in the capital.
Planning documents state that the applicant was a company called 'Quayspoint Propertiez Ltd'.
Accounts for the company filed to the Companies Registration Office (CRO) listed Aimee Bourke and Michelle Moore as directors of the company.
There is no obvious link between McGregor and the company according to the CRO filings.
However, McGregor has described the project of eight three bed homes as "my first property development" in his Instagram post.
Attempts were made to contact the company today.
Local TD for the area Noel Rock praised McGregor for getting involved.
"Conor McGregor's best known catchphrase is 'you'll do nothing' so credit where it's due to him for actually doing something," Mr Rock said.
"The development is about a five minute walk from my own constituency office, so I've been watching these units go up at an impressive rate.
"Soon there'll be eight more families living here - that's a good thing, so credit where due to all involved," he added.
Residents living next to the Conor McGregor housing site feel they have been "left in the dark" regarding the homes reserved for homeless families.
The semi-detached properties, which are being constructed behind the Swiss Cottage pub in Santry, are now in the advanced stages of development.
Residents praised McGregor's generosity, but a number of them said they were not consulted before the construction started.
"I understand that families need homes, but we should have been informed about this development," said homeowner Theresa Fitzpatrick.
"It's hard to really express an opinion right now because we know so little about them," she said.
Others living in the two Santry estates were "delighted" to see new homes being built for the homeless.
Marie Murphy (50s) believes the eight homes would be very good for the area.
"I think it will be very nice to have more families with children living here," she said.
"There are so many people living in hotels so I'm sure these homes will be a Godsend to them.
"There has been a lot of negative press about McGregor in recent months, but what he's doing here is just extraordinary," she said.
Ms Murphy added that she was over the moon to get a picture with the sports star when he visited the site on Thursday afternoon.
"There was so much commotion on the road when he arrived. I was so happy that he agreed to pose in a picture with me. He didn't say much, but was an absolute gent.
"He even put the photo on Instagram and over one million people liked it, including Kim Kardashian. It's kind of like my five minutes of fame," she said.