Cork street voted best in UK and Ireland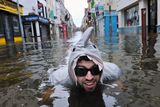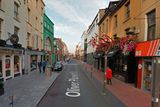 Cork's Oliver Plunkett Street has claimed the accolade of the best street in the UK and Ireland.
The street will celebrate it's 300th birthday this year and beat out Cairns St in Liverpool and Deptford High Street in London for the title.
Twitter account 'random Cork Stuff' tweeted their support for the win, writing "Any street where you can buy a chainsaw, €300,000 watch and a plectrum is great".
The Academy Of Urbanism Awards chooses award winners using a panel of academics who study urbanisation, and it is the first time an Irish street has won the award but the second time Cork has scooped an award from the Academy in three years.
The lead assessor for the Academy of Urbanism, Geoff Haslam said that the panel were "overwhelmed" by Oliver Plunkett St.
"It offers everything that we are looking for in a great street and more... it's a vibrant living street and community, full of little surprises and it is clearly on an upward trajectory".
Fellow assessor Alistair Barr described Plunkett Street as "one of the best-organised communities" they had judged in the six years of the competition, adding that they "raised the bar".
Criteria included local character, commercial success and environmental sustainability. The Irish Examiner reports that the Cork street won "overwhelmingly".
Related: