Children with additional needs 'being taught in toilets and corridors' as school protests funding freeze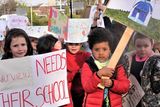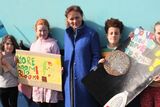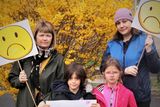 A school in which children with additional needs are "being taught in toilets and corridors" has held a protest in Dublin today.
Staff, students, and parents from Riverview Educate Together National School (ETNS) held a protest today at the school in Dublin 12 to draw attention to the impact of the government freeze on funding for new buildings.
The school says it requires a support teaching room for children with additional needs as well as an extra room to accommodate a new class of Junior Infants in September, as the school population grows by a further 28 children.
The protest follows a communication from the Department of Education last week that the installation of a prefab at the school is being put on hold due to "funding pressures".
Management at Riverview ETNS were advised by the Department to find rental accommodation off-site.
Margaret Burke, principal at the school, said conditions are "unacceptable" at present and that Riverview is operating without any support teaching rooms. Ms Burke said it is children with additional needs who are "most severely affected".
"The school office is a multipurpose space, with a teaching area in the corner. Toilets and storage rooms double as sensory rooms and support teaching happens in corridors and in the school hall," she said.
"There is no space at all for any of the confidential conversations which need to happen in a school. All of the children are being impacted by these unacceptable conditions, but it is the children with additional needs and the staff who are so committed to supporting them, who are most severely affected.
"If the government takes inclusion seriously, as we do, they need to prioritise the provision of physical and human resources for children with additional needs, so that inclusion can work for these children and their families. At a minimum, the construction of essential school buildings for September must proceed, but a wider conversation about how we invest in education for children with additional needs is urgently needed."
Riverview ETNS is located in a building shared with Setanta Special School, who are awaiting a new build in Stillorgan. In 2017, Riverside was informed it would take two years for Setanta's new build, but six years later it has yet to be completed.
Ms Burke continued: "As a developing school, we are already operating with fewer resources than equivalent established schools, and the additional strains on space are impacting the children for whom the most specialised support is needed. With each year, our physical space is put under further pressure, and staff are being asked to provide support under ever more compromised conditions.
"Riverview opened its doors in September 2016, and was established as a result of a parent campaign for equality based education in the area. Staff are hugely invested in the development of our school and have worked tirelessly to build the thriving learning community which the school has become, in spite of the conditions".
The Department of Education have been contacted for comment.