Charleville tragedy: Family and friends gather for removal of twins (9) and older brother
Gardai suspect mentally-ill youth planned murder of his mum and dad's biological twins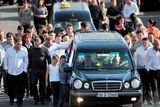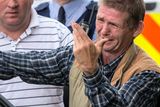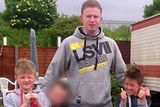 Maeve Sheehan and Ralph Riegel
There were yet more upsetting scenes in Charleville, Co Cork this evening as the removal of murdered twins Paddy and Thomas O'Driscoll and their older brother Jonathan took place.
The twins coffins were driven in the first hearse while the remains of Jonathan, who killed his younger brothers before taking his own life, travelled behind.
Family and friends of the deceased walked along side the hearses as the community continued to reel in shock from the events of last Thursday.
Twin brothers Patrick 'Paddy' and Thomas 'Tom Tom', both aged nine, will be buried side-by-side following a Requiem Mass tomorrow in Charleville, Co Cork.
Their killer and older sibling Jonathan will be buried afterwards with his maternal grandparents at Kilmallock, Co Limerick.
The remains of the three brothers were released back to their family yesterday following post-mortem examinations at Cork University Hospital (CUH). Post mortems were conducted on all three by the Deputy State Pathologist, Dr Michael Curtis.
Read more:
The twins' bodies had remained at their Deerpark home for almost 24 hours before being removed to CUH at lunchtime on Friday.
All three bodies were formally released to the boys' parents, Thomas and Helen O'Driscoll, yesterday and brought back to Charleville by funeral director, Austin O'Malley.
Private prayers took place at the family residences in Charleville last night. This was restricted to immediate family, friends and neighbours.
The twins will be lying in repose at O'Malley's funeral home at the New Line, Charleville from 1.30pm to 4pm today. Requiem Mass will take place at 12 noon tomorrow morning at Charleville's Church of the Holy Cross and will be led by curate, Fr Tom Naughton. The boys will then be taken in a special funeral cortege to Charleville cemetery at Holy Cross Place.
All three brothers will be sorely missed by their mother Helen (nee Conway-O'Reilly) and father Thomas, brothers Jimmy and Martin, sister Bernadette, grandmother, brother-in-law, uncles, aunts and many cousins.
On the day the nine-year-old twins were murdered by their older brother, their parents Helen and Thomas O'Driscoll had intended to surprise them with a painted wooden wagon.
That Thursday afternoon, the couple drove to Waterford to collect the little wagon for their nine-year-old twins, Paddy and Thomas.
It had a round green roof, a bright yellow frame and was decorated with red and yellow painted swirls.
It was just big enough to be hitched to a small pony.
Read more:
The parents had arranged for Jonathan (22), their eldest child, to pick up the twins from Banogue National School in nearby Croom. The twins had just gone into third class.
Jonathan, a troubled youth on medication for his mental health, didn't have a job and was about to start a FAS course. So he was free to ferry the children around.
As the O'Driscolls prepared to return home from their shopping trip, Jonathan collected the children from school at around 3.15pm. The two younger children, aged three and five, were with him.
Around this time, Jonathan rang his mother on her mobile phone, to ask could he bring the children to Doneraile Wildlife Park, about six miles away, according to sources, and apparently, she didn't object.
This seemingly mundane exchange proved to be his final conversation with his mother.
Detectives don't know yet whether Jonathan actually brought the children to the park, or why he wanted to bring them there in the first place. Gardai are examining CCTV footage from the area to find out if he did bring them there.
If he did, it was a short trip.
After 4pm, the O'Driscoll children were back at the family home in Charleville.
Their peach-coloured bungalow is on the busy Limerick road, on the outskirts of the town. There is a large yard to the back. There are neighbours on either side.
At 4.30pm, Paddy telephoned his mother on her mobile. Detectives will be trying to establish what they said. But according to friends of the family, it seems there was nothing untoward in the call.
Read more:
One friend said the conversation went along the lines of the parents telling Paddy they were on their way home with something nice for the children.
That was Helen's last conversation with Paddy.
Thirty minutes after that phone call, Paddy and Thomas were stabbed to death by their older brother.
At around 5.05pm, the O'Driscoll's neighbour was in his yard next door.
The five-year-old came running towards him and said: "Jonathan's after killing my brothers."
He ran to the house, approaching from the back. The doors were open.
The twins were in two separate rooms, and he could see enough to know that they had been brutally stabbed.
Gardai arrived within minutes. They were sickened at what they saw.
"It was horrendous, the worst scene I ever saw," said one senior officer.
The boys' bodies lay in their separate bedrooms at different ends of the house.
Both were dressed only in their school trousers. They weren't wearing shirts, which led investigators to suspect that the boys were changing out of their school uniforms when Jonathan struck.
Their upper bodies were riddled with stab wounds. The post-mortem operation results, which haven't been released, are expected to show that they were each stabbed in excess of 20 times.
Detectives are trying to establish what happened. There will be gentle interviews with the two youngest children as detectives attempt to piece together the sequence of events that led to this brutal tragedy.
Read more:
Had the children witnessed the brutal murders, or were they mercifully out playing with friends when their brother attacked the twins?
The neighbour, the first person on the scene, thought that they had hidden in the house until it was over, only emerging after Jonathan had fled.
By then, Jonathan had sped away in his car on a back road to Buttevant Castle and stocked up with the material he needed to take his own life. He parked near Buttevant Castle, 15km away, leaving his mobile phone and other possessions in the car.
Within an hour, his body was found by a group of school children, by the Awbeg river in a wooded area of Buttevant Castle.
Officially, gardai have not confirmed that this is a murder suicide. They say they are not looking for anyone else in connection with the twins' murder, and that there is no foul play suspected in Jonathan's death.
Privately, detectives acknowledge it as such.
They say they will have to delve deep into the mind of Jonathan O'Driscoll to find out what was the trigger that turned a troubled youth into a double murderer capable of such a frenzied violent attack on two young children.
They strongly suspected that Jonathan's murderous last act was not a spontaneous violent combustion from a mentally ill man, but something he had planned, possibly for some time.
In the harrowing aftermath of the murders, detectives have assembled a compelling picture of a young man, struggling with his mental health, who became fixated with his status as the adopted eldest child of the couple who raised him since he was a baby.
Helen and Thomas O'Driscoll took on Jonathan as an infant, according to neighbours and garda sources. He was their cherished first child.
A decade later, Helen gave birth to the twins, Paddy and Thomas, their first biological children. Three years ago, they adopted Jonathan as their own son. He was "a grand lad" according to one neighbour.
But in his teenage years, he seemed troubled and withdrawn. He didn't have a job and lived in his own "apartment" in the family home. According to one source, in recent months, various life events seemed to combine to push him over the edge.
He had split up with his girlfriend. He was "on a lot of medication" and he had various health issues.
Amid this mental turbulence, he seemed to become fixated with the concept of his adoption, according to sources.
He had "big issues about finding his natural parents," one source told the Sunday Independent.
One local man said that he started going by a different surname, and had also changed his name on his Facebook page.
"It was an issue with him," the man said. "He had been in touch with the Health Service Executive and was going down the route of the Freedom of Information Act to get information."
He added that "resentments" had built up in his head over time.
The twins were the biological children of Ellen and Thomas O'Driscoll, and detectives will be investigating whether this was one of the reasons he harboured murderous intentions towards them.
Last February, Jonathan was caught by gardai with a Stanley knife in a nearby town in north Cork.
Someone had spotted him "driving dangerously". When garda stopped him, they found the knife.
He was charged with possession of the knife at Mallow District Court but was released on bail. His case came up for mention in court last Tuesday.
However, Jonathan had recently acquired another knife and other materials that he would use to take his own life.
It is understood that detectives know where Jonathan got the knife, and when, but they don't know yet whether this was the knife that he used to murder his brothers.
It is understood that other material they have recovered has yielded clues too, "stuff" that he left behind in his car, his mobile phone and documents they took from his rooms at the family home.
From this jigsaw, they will try to piece together a report for the coroner's inquest on these tragic deaths.
On Friday afternoon, the cheerily painted wooden wagon that Helen and Thomas bought for their twins stood alone in a neighbour's yard, a poignant reminder of two young lives brought to an inexplicable and violent end.
Gardai in Charleville are appealing for witnesses or anyone with information to contact them on 022 31450, the Garda Confidential Line on 1800 666 111 or any garda station.
Samaritans is available round-the-clock on 116 123 or email jo@samaritans.org