Cavan man to auction hundreds of road signs secretly collected over three decades
Few people knew about Hugh Nolan's 'second life'... but the signs were there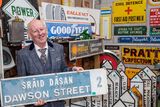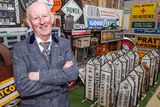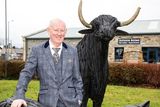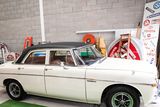 A man who secretly collected thousands of items from car boot sales over the past three decades, is putting the impressive collection up for auction.
Motor enthusiast Hugh Nolan (66) led a "second life" acquiring vintage cars, sign posts and other memorabilia, all of which goes under the online hammer at his retirement auction next Monday and Tuesday, March 27 and 28.
A contract manager in the construction trade in Belfast for 30 years, Mr Nolan built up the 1,200-lot collection in his spare time through car boot sales, and later opened the McNean Antique and Salvage Shop in Blacklion, Co Cavan.
"I never told anyone I had a second life while I was working in the building trade; I would get up at 5am on a Sunday to do the car boot sale circuit," he said.
"I sold nothing and bought everything; I had things stored in every nook and cranny of the house, from the attic to the garage, before opening the store."
Everything in that store, collected in Ireland and internationally, must go next including around 200 vintage Irish street signs and sign posts.
Villages, towns and road names from 15 counties feature, including Laois, Tipperary, Galway, Westmeath, Longford and Wexford.
Highly sought after by ex-pats, especially those running restaurants or pubs overseas, some signs can fetch thousands of euro.
"The signage would have come in to private ownership as they were being replaced. They are worthless to whoever is swapping them out for a newer sign, so in many cases they would have been marked to be destroyed," Mr Nolan said.
Some of the collection has already been used in the film industry, as pub and garage signs Mr Nolan picked up over the years have made it into scenes in forthcoming movie In the Land of Saints and Sinners, starring Liam Neeson, Colm Meaney and Kerry Condon.
Also up for sale is a 3.5L, 1970 Rover V8, which Mr Nolan has owned since 2006 and has a guided price of €15,000.
The car has been professionally re-sprayed and is in full working order. However, Mr Nolan said he will not be saying goodbye to all of his motoring treasures.
"Loving cars is a bug, and I've got it. I have the parts for a Triumph Spitfire, a Jaguar, and another Rover, and I'm looking forward to working on them in the coming months and years when I have more time on my hands," he said.
The imposing figures of a bull, cow and calf, made from teak and proudly displayed on a grass area on the Enniskillen Road leading into Blacklion, are also up for grabs.
The auction is being co-ordinated by Aidan Foley and Niall Mullen, antiques dealers who in January managed the sale of the contents from some of Ireland's most iconic five-star hotels.
"Typically, collections similar to what I have only come on sale when the owner dies," Mr Nolan added.
"I want to put mine on the market now while I can enjoy it and have many conversations with similar minded enthusiasts."
The Hugh Nolan retirement auction takes place live at easyliveauction.com/auctions on March 27 and 28, with viewing at the antique shop in Blacklion on March 24, 25 and 26 from 10am – 5pm.