Castle that stood for 800 years brought down by violent storms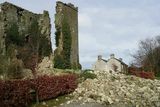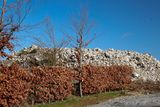 LOCALS have described the tearing down of an 800-year-old castle due to storm damage as a "disgrace".
Coolbanagher Castle on the outskirts of Portlaoise was turned to rubble following an order from Laois County Council after its southern wall was damaged during recent storms.
The privately owned castle was built in the 13th or early 14th Century as part of the Anglo-Norman line of defence and had been a recorded monument under the National Monuments Act 1930-2004.
But the Irish Independent has learnt that the building was destroyed after the owners contacted the Department of Arts, Heritage and the Gaeltacht with health and safety concerns on February 17, and again on February 21.
CONCERNS
The department then sought engineering advice from Laois County Council.
A department spokesperson said: "Having regard for pressing concerns raised by the owners, the department, on grounds of urgent necessity, granted consent for the removal of such parts of the structure as was identified as being strictly necessary to comply with specific directions from Laois County Council."
It said that consent to destroy the castle was granted "under dangerous buildings legislation or by a qualified engineer as being immediately and urgently necessary on the grounds of protecting public safety".
The spokesperson said that the department was now "assessing the works subsequently carried out on site in the context of the terms of the limited consent granted on February 21".
However, Sean Murray, of the Laois Archaeology group, said: "It's a disgrace. This monument and many others throughout the country are in need of proper care and consideration.
"Eight hundred years of our heritage just bulldozed over in moments, how many more monuments in the country may suffer the same fate if we don't act and highlight the cultural atrocity which has just occurred here at Coolbanagher," he added.