Cancer girl's family would be better off on social welfare
Where is the humanity in the decision to refuse a very ill, bed-ridden young child a medical card, asks Mairia Cahill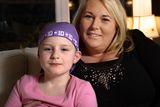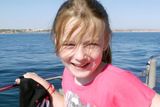 It's a nightmare no parent should have to face. A diagnosis of cancer for your child is beyond frightening. Add to that the fact that your medical bills are mounting and you have been refused support. So, the nightmare is compounded by additional worries that could be avoided if the State health service lost some of its rigidity. It's a ludicrous situation.
Lucy O'Connor is a bright, beautiful nine-year-old girl with an infectious smile. She loves school and ballet, although she hasn't been able to attend either since September, shortly after she was diagnosed with a rare Type B Lymphoma.
She is one of four children, and due to her energy was dubbed "the Duracell bunny" by her family, who delighted in the dance performances she put on at home. She is too ill to dance now. There are still glimpses of "the old Lucy", but she is not the way she was before she got sick.
She has spent most of the week in bed since attending Crumlin hospital on Monday last, too sick and too exhausted to move as she deals with another bout of illness.
Her mother Angela, speaking to the Sunday Independent, is exhausted too, not only because she is caring for Lucy - this week she received news that her appeal for a discretionary medical card for Lucy has been denied a second time.
"My heart is broken", she says. "Lucy's surgery alone was major and so expensive, and her case is a very unusual case. I should be spending all my time with my daughter, not having to go public."
The HSE has stated previously that while it did not want to comment on the details of an individual case, the "original examination of this application put the applicant well beyond the acceptable threshold for the granting of a medical card".
Angela was devastated by the decision to turn down the family's appeal. "I hung up the phone and cried. I felt completely humiliated. One of Lucy's other siblings has a disability and he doesn't have a medical card, we've all the outgoings that comes with having a child with a disability, we still have all the bills that we had before Lucy got cancer and we are incurring huge expense because of her condition".
The weekly threshold for a couple seeking a medical card before allowances for children is €266.50. It's hard to see how any working couple would qualify, but what is incomprehensible is that those on State benefits, even if over the threshold, are granted a medical card.
In short, Lucy's family would be better off on welfare than they are at present. Due to the round-the-clock care that Lucy needs, Angela who has paid taxes since she was sixteen, had to give up work.
"Being down to one wage and scraping the barrel and then having to basically beg for Lucy is horrendous. Our disposable income is not a whole lot, we end up dipping into the overdraft.
"The reality is we are living month to month, paying our mortgage, extra expenses, driving back and forth to Crumlin hospital from Kildare, car parking is €10 a day, only the machine doesn't issue receipts so you can't claim anywhere for that, its €45 for toothpaste that she needs due to the effect of chemo on her teeth, €55 for a GP - if I don't have it, I've to borrow, where if she had a medical card I wouldn't even be thinking about that, I would just be bringing her."
The "burden of illness" process which Health Minister Leo Varadkar announced in the wake of the Keane report, as one of a number of proposed reforms to the system, has not yet come into effect. Lucy does not have time to wait on officialdom to get its act together.
"From now on, wider discretion and greater humanity will be exercised", said Mr Varadkar in November last year.
Where is the humanity in the decision to refuse a very ill, mostly bed-ridden young child who is dealing with cancer, a medical card which would ease the burden on her family? Where is the discretion which would allow them to focus solely on helping her without having to jump through more HSE hoops?
If, as the Government has indicated, all children under six will be given medical cards this year, Lucy's brother Dylan, a healthy four-year-old, will be entitled to one, yet his sister, who is in need, will not.
The irony is not lost on Lucy's mother. "It just doesn't make sense to me," she said. The family has the support of Fianna Fail leader Micheal Martin, who raised Lucy's case during Leader's Questions this week, as well as Independent TD Catherine Murphy.
Angela is keen to stress that Lucy's is not an isolated case.
"I had three friends last year who lost their children through life-limiting conditions, and all three of those children had their medical cards taken off them at some stage over the short period of their little lives. I was at those funerals, and saw what those parents have gone through," says Angela. "No one should have to go through that extra stress, it just beggars belief."
Despite Lucy's family being contacted with offers of fundraising, they have refused, asking the public to donate to Aoibheann's Pink Tie cancer charity instead.
"Last year myself and a friend raised over €30,000 for BUMBLEance, never once thinking my child would end up in the back of one," Angela says. "I'm not a person who accepts help easily, and we wouldn't be asking for a medical card for the duration of Lucy's treatment if we didn't need it".
If there was ever a time for a common sense approach, it is now. The HSE has it within its gift to relieve the additional stress upon Lucy's parents whose sole focus should be in helping their little girl beat cancer and get back to school and ballet.
The HSE should grant a discretionary medical card without delay. To not do so is creating an additional battle for Lucy which should have been avoided, and should never have had to be fought.