Canadian parliament hero who shot attacker dead is new ambassador to Ireland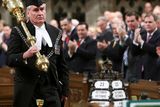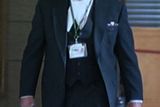 AN Irish Canadian who shot dead an armed attacker in the national parliament has been appointed the country's ambassador to Ireland.
Kevin Vickers - whose family are descended from Irish emigrants - was sergeant-at-arms in Canada's House of Commons, when he shot and killed a gunman last October.
Mr Vickers has received various accolades for what is seen as an act of selfless bravery, after the assailant had already killed a soldier guarding the building.
The new ambassador, who takes up his role on January 19, told the Irish Independent last night that both sides of his family have strong links with Co Cork.
"On my mother's side, Paul Kingston and his wife Lydia, arrived in Miramichi, New Brunswick in 1826," he said.
"This was prior to the famine. He became well known as a great lumberman. They came from Co Cork."
His father's side of the family can be traced to a person named William Vickers, and three of his brothers, who came to New Brunswick in 1848.
"There is a village in Ireland, Vicarstown, Co Cork, which is where they are probably from," he added.
Foreign Affairs Minister Charlie Flanagan said Mr Vickers will make an excellent ambassador.
"He has a strong Irish- Canadian background, is a very good friend of the Embassy of Ireland in Ottawa, and his family have been involved in Irish affairs in New Brunswick for many years,'' he said.
And Kate Hickey, Executive Director of the Ireland Canada Business Association said the appointment comes at a particularly upbeat time for expanding trade between Ireland and Canada.
The 58-year-old was the most senior security officer for the parliament when he shot dead a lone gunman. The shooting was the first time the former policeman had exchanged fire in the line of duty.