'Calamity Coughlan' takes a swipe at Leo over sock stunt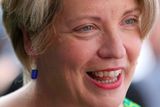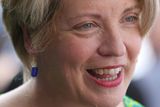 Former tánaiste Mary Coughlan has launched a blistering attack on Leo Varadkar, comparing him to US President Donald Trump.
The ex-Donegal TD, who was nicknamed 'Calamity Coughlan' for much of her time as Brian Cowen's deputy leader, also accused Independent TDs of "doing nothing" to support the communities that elected them.
Ms Coughlan has kept a relatively low profile since losing her Dáil seat in 2011 but is due to attend the Glenties Summer School today.
Ahead of that appearance, she told RTÉ Raidió na Gaeltachta the new Taoiseach is placing too much emphasis on trivial matters.
"On a personal level he is a gentleman ... but there are very important things happening at the moment, and socks and the like, well they're not important at all…
"It's easy to be on Twitter and not to do interviews, like President Trump in the US at the moment, but it's not right at all," Ms Coughlan said.
"There is very important work to be done, with Europe, policies... People are under huge pressure, and it's too easy to be on Twitter."
A spokesperson for Mr Varadkar rejected the criticism, saying: "It's a curious comment to make on the day that the Taoiseach launched a major new strategy on the very big question of drug and alcohol misuse, and the day after the 'Sunday Independent' published an in-depth interview with him."
The pair previously clashed in 2008 when Mr Varadkar compared the ex-enterprise minister with the gaffe-prone US politician Sarah Palin.
"Actually she [Sarah Palin] reminds me of Mary Coughlan, which is why I'm terrified Brian Cowen may become incapable for some reason," the then-Fine Gael backbencher said on 'Questions and Answers'.
Immediately, the show's moderator, John Bowman, said that was off the point and Ms Coughlan was "well able to speak for herself".
To this, Mr Varadkar responded quickly with "just about".