Brave young Dublin girl (12) who had her four limbs amputated after being diagnosed with Strep A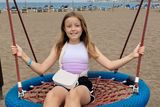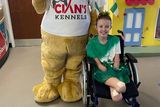 The mother of a brave young girl who had her four limbs amputated after being diagnosed with Strep A has said her daughter is "determined" to start rehabilitation.
Sophie Lanigan's life changed drastically on Monday, December 12, 2022, when she was rushed to Temple Street Children's Hospital and placed on a ventilator.
The 12-year-old from Blanchardstown, Co Dublin, developed a temperature on Sunday, December 11, her first and only symptom.
In the days before she had been out playing with friends and creating dance videos.
Laura Hughes said her daughter, who is due to start first year in secondary school in September, was otherwise perfectly healthy.
A GoFundMe has been set up to raise funds in order to help the family make the necessary changes to their home as well as prosthetics and other adaptive equipment.
Friends and family have already raised over €35,000 in less than 24 hours.
"On Monday morning, I rang the doctor and got an appointment and as the day went on, she just got that little bit worse," Ms Hughes told Independent.ie.
When she arrived at the doctor's office, Sophie was having trouble breathing and was rushed to Temple Street Children's Hospital by ambulance.
Her health deteriorated rapidly, and she was immediately placed on a ventilator in ICU.
What started as Strep A soon turned to pneumonia and she then developed sepsis.
"She was on dialysis and her kidneys failed," Laura said.
"They couldn't get her temperature down; her blood pressure was all over the place. They were doing their best and then on the Tuesday we were told that she would have to go across to Crumlin to be put on an ECMO."
Extracorporeal Membrane Oxygenation (ECMO) is a form of life support for people with life-threatening illnesses or injury.
Ms Hughes added: "She was rushed across by garda escort to Crumlin hospital but when she got there, they had a stronger ventilator and they put her on that instead of the ECMO."
Sophie spent over two weeks fighting for her life with her parents Laura and Keith by her side.
She was taken off the ventilator on Christmas Day but unfortunately Sophie woke to the devastating news that the damage caused to her hands and feet was untreatable.
At the end of January, she had her arms amputated just below the elbow and underwent surgery again in February to have her legs amputated through the knee.
Ms Hughes said she is grateful for the care her daughter received but she now faces a tough road ahead. Sophie is waiting to attend The National Rehabilitation Hospital in the coming weeks.
"Luckily, we brought her to the doctor when we did, and they got her the ambulance thank God because otherwise it could have been a different outcome," she said.
"She spent four weeks in total in ICU and then she spent 10 weeks on St Anne's ward in Crumlin."
Ms Hughes said in the beginning, the family were told to prepare for the worst.
"It all happened so quick; the doctors were baffled – nobody could believe it. It's amazing that she's still here," she said.
"I hoped and prayed every day, but I never believed that when we looked at her in there that she would be able to come through it, but she did.
"We were hearing all the time, 'prepare for the worst'. She does face a long, tough road and she's only just recovering from the surgeries.
"She's determined, she's very positive – she has her days but she's amazing. She went to school in the hospital and was teaching herself how to write again.
"She's very determined, she'll give anything a try, so that will stand to her please God."