Books and prints worth €100k go missing from All Hallows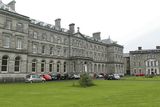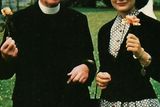 Books and other items worth around €100,000 have gone missing from All Hallows College in Dublin.
Gardai have been called in to investigate the disappearance of several items including 15 framed prints by 18th Century Italian artist Piranesi worth up to €5,000 each.
Seven books, including two incunabula from the 1480s, have also vanished from the college, which last week revealed it was facing closure due to falling numbers of students.
The investigation comes just days after All Hallows withdrew letters written by Jackie Kennedy from auction.
It is understood that the list of missing artefacts includes books and paintings, which the college said yesterday were valued at "about €100,000".
A spokesperson said: "This is currently the subject of a garda investigation but the value of the missing items is closer to about €100,000."
The decision by All Hallows College to place for auction the letters sent by Jackie Kennedy to Father Joseph Leonard was prompted by an attempt to address financial problems.
However, following intervention from the Kennedy family, the college withdrew the letters, which were written between 1950 and 1964 when Fr Leonard died.
Letters
The college had hoped to raise in excess of €1m from the sale of the letters, which offer a rare and revealing glimpse of the private thoughts of one of America's most admired first ladies.
All Hallows also announced last week that it has been left with no choice but to close because of mounting financial losses and a dramatic drop in priestly vocations. The college was founded in 1842 as a seminary for training priests for the foreign missions.
It is understood that the theft of the missing items was discovered when the college conducted an inventory of paintings and books in a bid to identify assets that could be sold to keep the doors open. The theft was reported to the gardai two weeks ago and an investigation is ongoing.
Over the weekend, it was claimed that among the missing items was an undated script sent to Fr Leonard by playwright George Bernard Shaw and all of Fr Leonard's correspondence with Shaw. Also said to be missing is correspondence between Fr Leonard and Lady Lavery. However, a spokes- woman said there was no record that the valuable documents were ever held at Old Hallows.
"There is no record that the correspondence between George Bernard Shaw and Lady Lavery with Fr Leonard were in the college in the first place," she said.