Berkeley fund raises $400k to assist families
Donations have almost doubled in a month, while close friends plan a fundraising concert at home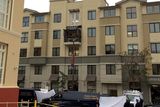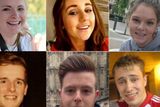 Nearly $400,000 (€370,000) has been donated to a fund providing assistance to families of students killed or injured in the Berkeley tragedy in California.
The Irish J1 Berkeley ­Tragedy Fund was set up by the Irish Immigration ­Pastoral Centre in San Francisco following the balcony collapse that killed six students on June 16.
The American Ireland Fund made a donation of $100,000 for "urgent funds" shortly after those killed, who were all attending a 21st birthday party, were named.
Irish students Eimear Walsh, Lorcan Miller, Eoghan Culligan, Niccolai Schuster, Olivia Burke and Irish-American citizen Ashley Donohoe were killed when the fourth-storey balcony of the Library Gardens building collapsed in the early hours of the morning.
Seven other students were injured, and five are still being treated in hospitals in San Francisco.
It was announced last week that Aoife Beary (21) is ­scheduled to move to Valley Medical Rehab Centre in Santa Clara where her friends Hannah Waters (21), from Castleknock, and Clodagh Cogley (21), from Milltown, are undergoing rehabilitation.
Niall Murray (21), from Rathfarnham, and Jack Halpin (21), from Rathmines, are also still receiving treatment.
Conor Flynn (22) was discharged from hospital two weeks ago but is currently unable to fly home due to a punctured lung.
Sean Fahey (22) has returned to Ireland.
A statement on the Friends of Aoife Beary Facebook page reads: "The road to recovery is still long and the family would again like to extend their thanks for all prayers, mess- ages and positive thoughts being sent their way."
Back home, a group of Dublin-based students have come together to organise a fundraising concert in the Academy music venue to raise further cash for the survivors of the tragedy.
Organiser Thomas Kenny, who is a close friend of Clodagh Cogley, said the event is for all seven students and their families.
"The weekend after it happened we were all sitting together and we felt like we had to do something to help our friends who were half the world away," said the final year DIT student.
"A friend suggested a fundraising gig and the idea snowballed from there."
It is hoped that all the money raised from the concert - headlined by Mundy and featuring Irish bands including Jape, The Fontaines and the Dublin Gospel Choir - will go towards rehab treatment and the modification of the students' homes.
"Once the money is raised we will talk to families and see what way they want to spend it, whether they need something for their home or need to pay for physiotherapy," said Thomas, from Dundrum, who is in regular contact with Clodagh.
"She is doing really well and she has a pretty amazing outlook on the whole situation considering what happened," he said. "The plan is to get her home in the next couple of weeks.
"It will obviously be an emotional homecoming, but I can't wait to see her."
He added that the group of friends are hoping to raise €40,000 from ticket sales and raffles on the night.
The organisers have also found solace and strength from planning the concert over the past few weeks.
"It's been a lot easier to cope in a group than by ourselves. We were all going through the same thing and there is a real sense of solidarity," said Thomas.
"We know all the students and their families are really grateful and appreciative. Hopefully it will make their move back home a little bit easier."
The fundraiser, hosted by television and radio presenter Nicky Byrne, will be held in The Academy on Thursday night, with doors opening at 7.30pm.
Tickets for the event cost €25 and can be bought online from www.ticketmaster.ie.