Apple's new Irish data centre: Everything you need to know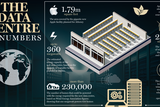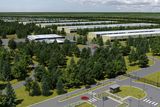 Apple is building a 44-acre data centre in Athenry, Co Galway, but what precisely is a data centre and what goes on in one?
Gary Keogh, sales director for the Irish arm of global data centre builder Digital Realty, is well placed to answer.
"Think of a data centre as a large hall which has uninterrupted electricity supply - that then becomes the home of the cloud, with generally uninterruptible data connectivity," Mr Keogh told the Irish Independent. "In general you would have storage equipment which would maintain records and customers' data in terms of photographs, videos, images, etc.
"A data centre is a very secure building in a very secure location, so it has a number of physical security parameters to ensure that nobody can access into the data centre without the appropriate permissions.
Keeping the complex equipment cool is an important part of the mix, and Mr Keogh said Ireland is well suited for this.
"The climactic conditions are very good, you don't need mechanical refrigeration to cool the data hub.
"You're able to use the outside air temperature to be able to cool the inside data hall temperature, and that means that you're saving a huge amount on energy costs."
Mr Keogh said Digital Realty's data centre at the Digital Profile Park in Dublin will require 16 megawatts of energy once it reaches 80,000 square feet in size.
On the same basis, Apple's site, which will cover around 1.79m square feet, will require 358 megawatts of energy.
Apple said that the site will be run entirely on renewable energy, and that it will "work with local partners to develop new renewable energy projects from wind or other sources to power the data centres".
The Irish Wind Energy association estimates that one megawatt of wind energy powers 650 homes.
This means that, at full capacity, and using wind only, Apple's centre would use enough electricity to power over 230,000 homes. Apple will also need excellent internet connectivity, which Mr Keogh says they'll find here.
"It's a very large data centre and obviously it's going to service their requirements for the next decade or longer.
"They need very good internet connectivity, and that's something Ireland has now in terms of pipes to the outside world, so we're well serviced from a fibre infrastructure perspective globally.
"Somebody in Australia could be accessing that data centre in Ireland, he said.
"It's a very good news story for Ireland for data centre rollout. I would hope they would use the indigenous skill set that we have in the engineering firms now in Ireland.
"We would just hope that that would pass down to the second wave of companies who would then invest in Ireland as their EMEA (Europe, Middle-East and Africa) headquarters for cloud solutions. We have the infrastructure built for it now. We have the data centre capacity."