An ode to science, carved from sand and water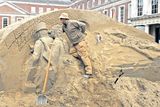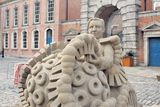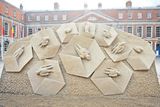 Three new attractions have taken shape at Dublin Castle.
The annual exhibition of sand sculptures is celebrating its 10th anniversary as it returns to the historic surroundings of the castle.
This year's theme, Bright Sparks, takes its inspiration from the world of science.
The three artists behind the initiative -- Daniel Doyle, Niall Magee and Alan Magee -- were in the castle courtyard yesterday putting the finishing touches to their masterpieces.
Each was given a mound of sand, weighing about 20 tonnes, to work with.
"Each of the sculptures we chose represents an Irish scientist and their work. Alan based his on John Tyndall, who discovered why the sky is blue. Niall was behind the John Desmond Bernal creation, the man who invented X-ray crystallography. And mine was based on mathematician William Rowan Hamilton," said Mr Doyle.
The trio make up Duthain Dealbh which is Irish for 'fleeting sculpture'.
"We travel all over the world during the year making sand sculptures and we also create similar work with ice and snow during the winter. It's our full-time profession," Mr Doyle added.
The sculptures were carved out over the past seven days. Explaining the process, Mr Doyle (39) said: "We compact the sand with water in wooden boxes. Once we remove the wood we're left with a big block of sand. We then carve our creations."
The exhibition is free to the public and the sculptures will be on display until the last week of August.