A spartan room in Milltown: Francis's last visit to Dublin
Then a 'quiet' forty-something Argentine priest, in the 1980s the Pope spent several weeks with a Jesuit community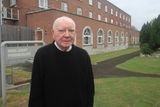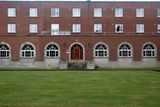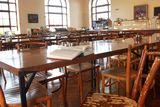 On the second floor of the old Jesuit house in Milltown Park in leafy Dublin 6 there's a window at the far end of the corridor. The Spire can be seen from here and several other city landmarks.
In 1980, an Argentine priest in his early forties spent a number of weeks living in a spartan room on this floor and he is likely to have come to this window and taken in the view. The green dome of Rathmines church is clearly visible and to the left of it the Wellington Monument in the Phoenix Park.
Jorge Maria Bergoglio was hardly to know it at the time but he would be returning to Dublin almost 40 years later to say Mass for half a million people at a Phoenix Park site close to that venerable monument.
And could any of his fellow Jesuits in Milltown that year have imagined that this quiet priest with basic English would one day become pope, named in honour of his hero, the animal-loving St Francis of Assisi?
When Bergoglio - then cardinal of Argentina - was elected Pope in 2013, many Catholic commentators were surprised that this man would become the first Jesuit to be given the church's most important position.
And among those pleasantly taken aback was Fr James Kelly, a retired priest who has been living among the ageing Jesuit community at Milltown Park since 2005.
He knew the future Pope Francis - not from the short time the Argentine spent in Dublin, but rather the three years he worked in the Buenos Aires Jesuit seminary in the early 1980s - and the man he remembers from back then was very different to the figurehead viewed by devout Catholics to be "God's representative on earth".
"He was authoritarian - no doubt about that," he says. "And I think he has admitted that himself. And I thought he'd be authoritarian as pope, but he has proved he isn't. He changed greatly when he was Bishop of Buenos Aires - he became more extrovert then and went out among the people and did a lot of work with the poor.
"It's amazing [how much he's changed]. When I knew him, he didn't leave the house [seminary] that much. It was all about teaching and his focus was on students. But as bishop, he went to the poor slums and that came to define him."
Dictatorship
Since his papacy, many questions have been asked about the behaviour of the Jesuits and Bergoglio himself during the dictatorship that caused terror in Argentina in the 1970s, but Fr Kelly says it was a topic that was not discussed during his time in the country.
Fr Kelly is originally from Co Westmeath and was ordained in 1968. Now 82, he is a year older than Pope Francis.
"I was in Argentina between 1981 and 1983 and I was teaching scripture at the Jesuit House [seminary] in Buenos Aires. He was the rector of the house, the superior, and he devoted a lot of time to the students. He was very demanding of them, but he was very much in their favour - they thought he was very supportive."
The two spoke about Ireland on occasion and early on, Fr Bergoglio mentioned that he had been at Milltown Park. "He was friendly with one Jesuit, Joe Veale, who spent a lot of time [as English teacher] in Gonzaga [the fee-paying boys school run by the Jesuits in Ranelagh, Dublin]. He used to write to Joe."
When Bergoglio became pope, Fr Kelly informed his colleagues at Milltown that he had stayed there for a short time years before. A thorough search of old documents and ledgers was undertaken and in one, dating from 1980, it was found that a Fr Bergoglio had been loaned money to buy language tapes.
When the story reached the media at the time, it was reported that he had spent up to three months at Milltown learning English, but Fr Kelly believes his stay was shorter. "I think he was here for three weeks, maybe a month at most," he says. "I don't know why he came here at that time. It's said he was speaking English, but I don't know."
The red-brick house that Bergoglio stayed in has been disused for some time, although Fr Kelly is happy to show the Irish Independent the room he believes the future pope had slept in. He believes he has identified the correct one on the second floor because Bergoglio had told him he was in the room next to where Fr Veale lodged back then.
There's a plain desk now where the bed would have been and the window affords views of the old chapel at Milltown Park as well as the 1970s apartment buildings outside the perimeter wall on Milltown Road.
The dining room on the ground floor is fastened shut with cable-ties but one can still get a sense of what this building would have been like back in 1980. A comparatively new build then, its parquet floors are a familiar sight in religious institutions throughout the country.
Conjecture
Fr Kelly says Bergoglio didn't mention specific things he may have done during his stay in Dublin so those weeks in Ireland are open to conjecture.
If he wanted to stretch his legs in the evening, he might have ambled into nearby Ranelagh and Donnybrook villages, or ventured further out to Ballsbridge and Sandymount. He could have got the No 11 bus into the city centre from close to the entrance to Milltown Park or he could have walked it if he had time to kill.
As a football fan - passionate about his local Buenos Aires club, San Lorenzo - he would have been able to enjoy the 'beautiful game' on his doorstep if he had so wished. Back then, Shamrock Rovers played at Glenmalure Park, next door to Milltown Park. Ireland's most decorated club had leased the site for their stadium from the Jesuits in 1926 and by the early 1970s, then-owners, the Kilcoyne family, had bought the property from the religious order. Glenmalure Park has long been levelled and a housing estate stands in its place today.
Inspirational
Pope Francis's Irish visit is just 36 hours long and there are no plans for him to visit Milltown Park. Fr James Kelly says he is not well enough, health-wise, to attend the mass at the Phoenix Park or the events planned for the RDS and Croke Park, but he hopes there is an opportunity to meet him once more.
"I would like to shake his hand," he says. "I think he has been a good pope. His writings have been marvellous and very inspirational. And he's been demanding too, but then he is a demanding person."
The priest was on ministry in Ecuador during Pope John Paul II's visit to Ireland in 1979. "It's a different Ireland now," he says, simply. Does he agree with those who believe that Pope Francis should publicly apologies for clerical sexual abuse during his time here?
"I'm not going into that," he says. "I'm not competent in that area. I think I'll leave that to him, but I know there are calls for him to do so, so we'll see."