4,000 Apple employees evacuated amid possible security threat in Cork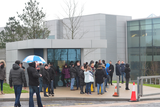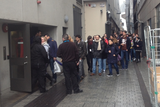 Conor Feehan and Louise Kelly
UP TO 4,000 workers were evacuated from three different Apple plants in Cork amid a possible security threat this morning.
Gardai responded to the scene and have confirmed that a number of plants have been evacuated.
It is understood that several threatening emails were received by the company.
It is not clear whether the emails contained information regarding suspicious packages - however, the emails prompted the evacuation of a number of plants.
It is understood that the firm's premises on Lavitts Quay and Hollyhill were among those affected by the evacuation.
It is believed that the Model Farm Road site was also evacuated as a precaution.
A garda spokesperson told independent.ie that an army bomb disposal team had not been called to the scene.
Gardai were assisting in searches on the buildings after the security threat was issued this morning at around 9am.
Staff were allowed to returned to work at approximately midday.
On January 13 last year the Intel plant in Leixlip was evacuated after a bomb threat which later turned out to be a hoax.
Employees there were allowed return to work after an exhaustive search was completed and no suspect devices were found.
More to follow...