140-year-old Diving Bell to be reborn as tourist attraction
Underwater wonder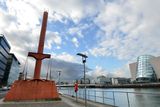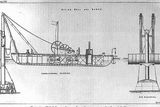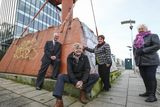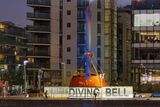 AN ENDURING symbol of Dublin's maritime heritage will be refurbished, to show people how the city's port was constructed, and what working conditions were like at the bottom of a river.
Dublin Port's 'Diving Bell' was used for almost 90 years to build the city's quay walls. Work begins this week transforming the 13-metre tall, 90-tonne structure into an interpretative centre.
The Diving Bell was designed by the port engineer Bindon Blood Stoney (1828 -1907) and built by Grendon and Company in Drogheda.
Appointed in 1862 as the Dublin Ballast Board's chief engineer, Stoney was responsible for building deep-water quays along the River Liffey and decided to use a novel method of underwater construction.
Massive concrete blocks of 350 tonnes were made on the quayside and lowered into position on to the river bed, which had previously been levelled by workmen.
This was done by lowering the diving bell into position, pumping water out and compressed air in. Workers entered through a tunnel at the top, and passed through an airlock, which allowed them to level the river bed.
Archival drawing of the diving bell and barge
The restoration project, on Sir John Rogerson's Quay, begins this week and will be completed by the middle of June.
The bell will be elevated onto a two-metre steel structure, creating access for the public underneath, where a water feature will be installed and interpretative panels explaining the historical, social and engineering significance of the Diving Bell.
"The Diving Bell is a remarkable feat of Irish engineering and Dublin Port Company is proud to invest in its transformation and bring the history of this magnificent structure to life along the Liffey," Dublin Port Company chief executive Eamonn O'Reilly said.
"Developing the Diving Bell is the first step in our plan to create a distributed museum of port and industrial heritage attractions across the Dublin docklands and into the port."
The diving bell will be restored this year
The project has been designed using the expertise of architect Sean O'Laoire, sculptor Vivienne Roche, Professor of Engineering at the University of Limerick Tom Cosgrave and Mary Mulvihill of Ingenious Ireland.
The bell entered service in 1871 and was used in the building of the port's walls until 1958.
Stoney's other achievements include the Boyne Viaduct in Drogheda, O'Connell Bridge in Dublin and the building of many of the port's quay walls.
Read more: