Fashion: Heidi Higgins hits the bright lights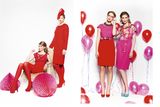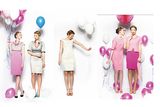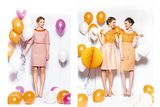 Photography by German Collins. Fashion edited by Constance Harris
Irish designer, Heidi Higgins, has always got that Irish people love colour. Practically since the moment she launched in 2009, her ranges have been full of brights. "Pinks and reds are always in our collections because our clients love them," Heidi told me. "Spring/summer is very much about occasion.
"A lot of my customers are 35-plus. When I am designing, I think about weddings; mothers-of-the-bride and mothers-of-the-groom — who are much younger these days, and who don't want to look fuddy-duddy up at the altar."
Heidi is all about shape and styling, two elements which make women feel comfortable. She does sleeves in different styles, hemlines on, or below, the knee, some styles that cover the chest, others that flatter it — all in sizes 8-18.
Her dresses give a lovely hourglass silhouette without looking conventional. I love her Sophia dress with the bell sleeves.
She always does a striking occasion- wear coat in a warm fabric, designed for our cold spring days.
"Essentially, the collection is very simple," she says. "No fuss. It is all about shape and punchy colours."
Having always used fine Italian fabrics, Heidi moved her manufacturing to Italy to get more of their continental finesse going on for her.
"You know how the Italians love name-dropping," Heidi laughs, "so they had to tell me the shoulder pads in my coats are the same as Dolce & Gabbana's! But I am delighted — their finishing touch is superb."
Heidi Higgins is one of the success stories of Brown Thomas's Irish Designers Create. She first showed in 2011 and has never left, having identified a particular style tribe in the prestigious store. On Saturday, March 15, Heidi is doing a customer day in the Grafton Street store, from 1-4pm.
She is also taking part in the year's biggest fashion event, The Arc Irish Designer Fashion Show, showing alongside big names, such as John Rocha. Organised by Eddie Shanahan to raise funds for Arc Cancer Support Centre, it will take place in the RDS Main Hall on Monday March 10,
at 8pm. Tickets are available from www.eventbrite.ie. It promises to be a fun evening, with great fashion and great ticket prizes.
But Heidi's really big news in 2014 is that she has just opened her first street-level store in her hometown of Portlaoise — "on the top square".
Here, you will find Heidi Higgins's full collection, alongside those of other Irish designers, jewellers and milliners whose work complements her own.
"I am glad we started small, and
I am glad I learnt and made mistakes from starting off small," she says.
"Now I know what I am doing and what will work, and I am loving it."