Tubridy's last Late Late Show: Ryan visited by Toy Show stars as he signs off after 14 years as host
Ryan Tubridy presented his final Late Late Show, ahead of Patrick Kielty taking the reins.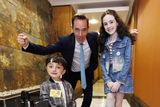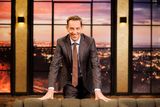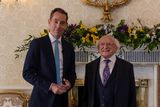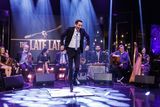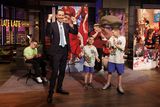 Eoghan Moloney, Maeve McTaggart and Seoirse Mulgrew
Ryan Tubridy opened his final Late Late Show by thanking the audience for their support during his 14-year reign and wishing his successor Patrick Kielty the best of luck when he assumes the role in August.
"I can't wait to see what he does with the job. He's going to be great and he has a great time around him. Good luck to you Paddy.
"Thanks to everyone for their kindness this week...it's been a wonderful 14 years," Ryan said.
Messages of congratulations poured in from Saoirse Ronan, the cast of Ms Brown's Boys, Jessie Buckley and Paul McCartney.
McCartney advised Ryan not to learn to play guitar, joking: "not a good career move". Ryan then asked to go to a break saying, "I need a minute", before being hugged by good friend Charlie Bird.
Following a blast of trad from an ensemble of some of Ireland's top musicians, Ryan was then interviewed by Andrea Corr about his time on the show.
This was followed by messages from Bono and The Edge of U2, who gifted Ryan a Vespa motorbike, which was ridden into the studio by PJ Gallagher.
This was a nod to their previous gift of a Harley Davidson motorbike to founding host Gay Byrne when he left the Late Late.
Speaking about leaving the show, Ryan said: "I'm leaving with a spring in my step rather than with a heavy heart".
"Tonight is a night of endings but also of beginnings. I just want to say thank you to everybody," Ryan said.
An emotional Tubridy dedicated the show to his family, and particularly to his mother, who is recovering from a recent fall.
He chose the Beatles' All You Need Is Love to end the show, performed by Cian Ducrot.
"When all is said and done…family is what it's all about.
"I want to say I'm grateful to everyone I've worked with, all the people behind the scenes – they're amazing. At every level of this organisation.
"I love them and thanks to their families for sharing them with me every Friday night. I also want to say thank you to the viewers for their loyalty and decency and kindness.
"Let me finish by saying good night and good luck. Mind yourselves and mind each other," Ryan signed off with.
There was also a return of many of the most popular children to grace the Late Late Toy Show over the past 14 years as they sang, 'You're Going to Miss Me When I'm Gone'.
Ryan Tubridy began to tear up as he told them that he always thought of the Toy Show kids as "part of my weird little family [on the Late Late Show]".
Ireland's favourite kids DJ duo Callum and Jackson Kieran came on stage to introduce a special message from the Muppets cast. Ryan then donned a "disgusting" Christmas jumper to welcome more of his old friends from the Toy Show, including Adam King and Saoirse Ruane.
Ryan congratulated the kids involved in the Toy Show Appeal which has raised €18m so far for various charities.
Adam King came back to see Ryan along with his "hero" porter John Doyle from Temple Street Hospital. Adam then confirmed he had a special hug for him from everyone in the audience. He was then presented a special Hug For You from Adam.
We need your consent to load this Social Media content. We use a number of different Social Media outlets to manage extra content that can set cookies on your device and collect data about your activity.
Olympic boxing champion Kellie Harrington also joined the gang along with Poppy and Darcy, who got the surprise of a lifetime when she met them on the set two years ago.
Ryan said that the Covid shows with no audiences were the "most difficult" that he did but said the generosity of viewers donating to charities in that period was overwhelming. "To each and every one of you who donated, thank you so much," Ryan said.
We need your consent to load this Social Media content. We use a number of different Social Media outlets to manage extra content that can set cookies on your device and collect data about your activity.
Majella O'Donnell, Joanna O'Riordan, PJ Gallagher and Robbie Lawlor joined Ryan to discuss some of the inspirational activists that have graced the Late Late Show couch during Ryan's tenure.
The group spoke about living with illnesses, disabilities and issues and how important it was to be given a platform to normalise the issues they were overcoming along with so many others in Ireland. Jedward also spoke with Ryan about the death of their mother and recounted how they shaved their heads for cancer awareness and charity.
Ryan paid tribute to Vicky Phelan who he said was "an amazing human being" and welcomed her sister Lindsay Kelly to the show.
Lindsay thanked Ryan for his kindness to Vicky and Ryan thanked Vicky's family for "sharing her with all of Ireland. We loved your sister and we miss her".
"We are thinking of Lynsey Bennett and Emma Mic Mhathúna and Laura Brennan," Ryan said.
Charlie Bird and his wife Claire then joined Ryan to thank him for his support and for launching Climb With Charlie on the show. The charitable drive secured more than €3.3m for Pieta House and the Irish Motor Neurone Disease Association.
Charlie said he is physically deteriorating but mentally "doing well". He said the people of Ireland are lifting his spirits and he extended the hand of friendship once more to everyone in Ireland.
He also offered for Ryan to mind his dog Tiger if "Claire can get me on a plane for a holiday".
PJ Gallagher spoke about his own struggle with depression and said: "I spent 26 years trying to make people laugh and I did the Late Late Show once and became the most depressing man in Ireland," PJ joked.
"I didn't trust anyone to do that interview but you Ryan," PJ said.
The show kicked off with a pre-recorded interview with President Michael D Higgins for a general chat on the state of Ireland currently, touching on the housing crisis and the anti-immigrant sentiment bubbling up in Ireland.
President Michael D Higgins invited Tubridy to join him in Áras an Uachtaráin for their final Late Late interview together.
President Higgins has been a regular guest on The Late Late Show throughout his presidency, joining the host at key moments over the past 14 years.
President Higgins said he thought the intimidation of migrants "was awful" and said the sentiment among some that Ireland should not take in migrants is very similar to what Irish people experienced when emigrating en masse in the 19th century.
He also said his own family experienced tough times in social housing when he was younger with his family living in eight different flats in Limerick before eventually settling in Co Clare. "This issue is not just an abstraction for me," President Higgins said.
President Higgins also confirmed recent visitor to the Áras Joe Biden wrote him a letter to pass on his condolences following the death of his beloved companion Bród in recent weeks.
A host of Irish celebrities paid tribute to Ryan Tubridy as he prepared to sign off on a 14-year career as host of the Late Late Show tonight.
Una Healy, Pat Kenny, Kathryn Thomas and Doireann Garrihy were among those paying tribute to Ryan ahead of his final episode tonight.
Tubridy's final show will include a host of surprises for the star as well as a Toy Show reunion and a special trad music performance.
Singer Una Healy penned a heartfelt message to the presenter on Instagram, underneath a blooper reel shared by The Late Late Show.
"Ryan, you're a legend!" she said. "You will be so missed. Thank you so much for entertaining the nation every Friday night. I would also like to thank you for having me on as a guest many times over the years," Una said.
Doireann Garrihy has also weighed in on Ryan's final day, telling the host to "knock 'em dead tonight."
"You did it your way!"
Celebrity architect Dermot Bannon added to the well wishes, sharing a series of selfies and photos of the pair with the caption: "Thanks Ryan for entertaining us. Good luck with the next adventure."
Former Late Late Show host Pat Kenny has said the host will likely feel "relief" as he wraps up his 14 years on the programme tonight and has already called him to wish him luck.
"I can tell you what Ryan will feel like tomorrow… great relief. That's for sure," he told Newstalk Breakfast listeners.
"When you make a decision like that and then there are weeks in between making the decision public and then having to keep doing the show... and then finally it is over."
An iconic trad super-group will assemble to give Tubridy a send-off that he will never forget, including Andrea Corr, John Sheahan from The Dubliners, Steve Wickham from The Waterboys, Sharon Shannon, Mairéad Ní Mhaonaigh from Altan, Ciarán Owens from The Tumbling Paddies, and many more.
One of Ireland's latest breakthrough singer-songwriters Cian Ducrot will also be in studio with a very special performance to mark the occasion.
There will be more familiar faces dropping in, and much, much more surprises in store for the audience at home, and for the broadcaster himself.
The host dedicated his final show to his family, who he said have been his "greatest supporters".
"Gratitude to all the people I have worked with and continue to work with and their families. And enormous gratitude to the guests, the artists, the singers, and the 'doers' who have come through the door and graced us with their presence.
"And of course, my greatest gratitude to my family who have been so loving and patient and my greatest supporters. They are my constant. I love them so much and I want them to know that."
Tubridy thanked viewers for sticking with him through the good times and the bad.
"I also want to say thank you to the viewers who stuck with me, with us and with the show for the past 14 years," he said.
"The viewers' loyalty, decency, kindness and generosity has taken my breath away on a weekly basis.
"I sit looking at my desk this morning at about 300 or 400 cards and letters from people I don't even know, that have come from all around Ireland and in some cases all around the world.
"I am humbled, I am grateful, and I am excited because this is the end of one phase of this extraordinarily exciting life I have had so far," Tubridy said.