What to watch this weekend: Olivia Colman stars as Miss Havisham in a Great Expectations adaptation with violence, drug abuse and even a little BSDM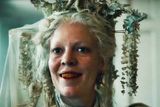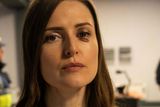 TOP CHOICE GREAT EXPECTATIONS BBC1, Sunday, 9pm If the vandalism Peaky Blinders creator Stephen Knight inflicted on A Christmas Carol (with his dark, gritty, sweary and quite terrible version in 2019) is anything to go by, Dickens purists should probably adjust their expectations of this six-part take on the oft-adapted novel.
Knight's "reimagining" of the story adds violence, suicide, drug abuse and even a little BSDM to the mix. The cast is led by Fionn Whitehead as Pip and Olivia Colman as an opium-addicted Miss Havisham.
Friday
UP HERE Disney+ This eight-part musical romcom (all episodes today) offers not just songs and scripts by some of the talent behind Hamilton, Tick, tick . . . BOOM! and The Book of Mormon, but also characters whose inner voices manifest physically. Mae Whitman and Carlos Valdes play the couple negotiating love in late-90s New York City.
​
YELLOWJACKETS Paramount+ Season two of the oddball drama, set in two timelines, about a girls' high-school football team who become stranded in the Canadian wilderness for 18 months after their plane crashes. New characters are introduced, very much out of the blue.
​
DISPATCHES: LOCKED AWAY Channel 4, 7.30pm Hidden-camera exposé of the inhumane conditions endured by autistic people locked away in mental health units. Undercover filmmaker Richard Butchins, who is neurodiverse, meets one 25-year-old woman who's been incarcerated for most of her life. Disturbing.
​
DRIFT: PARTNERS IN CRIME Sky Atlantic, 9pm & 10pm Imagine if Lethal Weapon featured mismatched cop brothers instead of mismatched cop buddies. That's basically the premise of this action-led German series, showing in double bills. Ken Duken and Fabian Busch play estranged detective siblings the Zellers. One is a maverick, the other a stickler for the rules. When the reputation of one of them is wrongly destroyed, they team up.
Saturday
BIG NIGHT OF MUSICALS BBC1, 7.50pm If musicals are your thing, you're going to love this. It's a celebration from the Manchester Arena, featuring full production numbers from British theatre's most successful shows, including Hamilton, The King and I, Matilda, We Will Rock You, Newsies, Les Misérables and Mamma Mia!. The evening, hosted by the busy Jason Manford, was intended as a thank you to Britain's National Lottery for supporting the arts, including 2,000 theatres, during the pandemic and tickets were on sale at just £2.
​
ANDREW LLOYD WEBBER AT THE BBC BBC2 NI, 10.55pm; other BBC regions, 9;25pm There's more from the world of musicals in this compilation, showing to mark the king of the genre's 75th birthday. He provides the links between performances and is disarmingly frank about his failures and embarrassments.
​
THE MI5 SPY AND THE IRA: OPERATION CHIFFON BBC2 NI, 9.50pm; other BBC regions, 7pm Veteran journalist Peter Taylor finally gets to interview the MI5 agent he spent decades tracking down. Taylor claims the operative's unauthorised back-channel discussions, codenamed "Chiffon", with Martin McGuinness, which started in the days after the Warrington bombings in 1993, played a big part in bringing the IRA to the negotiating table.
Sunday
WILD ISLES BBC1, 7pm David Attenborough's fabulous — and, if rumour is to be believed, last ever — series dazzles with astonishing footage of a caterpillar's hair-raising survival techniques, the mating rituals of wild horses and adders, and a violent showdown between a black grouse and his rival.
​
ANTIQUES ROADSHOW BBC1, 8pm Cosy it may be, but it's also frequently fascinating. This week's show features a collection of ticket stubs from the 1966 World Cup Final, a pair of spoons that belonged to Captain James Cook, and the story of a local hero who saved 13 Americans from a D-Day shipwreck.
​
WE NEED TO TALK ABOUT COSBY BBC2, 9pm The final part of this superb Showtime series (awards must surely be a given) reminds us there was no guarantee Bill Cosby's courageous accusers would be believed. They were, only to see him convicted and later released on a technicality. But at least the truth is finally out.
​
PROJECT ICON: THE UK'S NEXT MUSIC STAR BBC3, 9pm Would-be pop stars no longer have to play small gigs to get noticed; they can make music in their bedroom and share it on the internet. It was inevitable they'd get their own show, and here it is.
​
KIN RTÉ1, 9.30pm Now we know what hothead Viking meant last week when he said Amanda would soon "get hers". Unwelcome eldest Kinsella sibling Bren is back and poses a threat to her leadership. That's the last thing she needs when she has the dangerous Turkish cartel to deal with. Great stuff.